"We Owe John Dittmer a Great Debt," States Review of Professor's Book
July 3, 1994
July 3, 1994, Greencastle, Ind. — "Many Americans still think of good white people as the ones who brought some sanity and justice to America in the 60s. This book disabuses us of that notion," writes William H. Chafe in a review of John Dittmer's new book, Local People: The Struggle for Civil Rights in Mississippi. Writing in today's News & Observer of Raleigh, North Carolina, Chafe notes that "ordinary black citizens carried on their own fight, relying on their own community spirit and their own faith. That they were able to endure and occasionally prevail in such circumstances was an extraordinary achievement. We owe John Dittmer a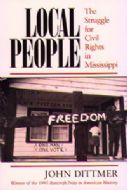 great debt for telling us their story."
Dittmer, professor of history at DePauw University, tells "a story of dramatic courage and endurance by ordinary people who faced official terrorism comparable only to that practiced by Hitler in Germany or Stalin in Russia," opines Chafe, chair of the history department at Duke University.
Published last month by University of Illinois Press, Local People "chronicles the monumental battle waged by civil rights organizations and by the local people -- from the efforts to defeat Senator Bilbo in the 1946 election to the first-ever seating of a racially integrated Mississippi delegation at the 1968 Democratic National Convention," states a synopsis.
Learn more about John Dittmer and his book in this recent story.
Back