Dramatists Guild Fund & President Gretchen Cryer '57 to Honor Rosie O'Donnell
March 29, 2009
March 29, 2009, Greencastle, Ind. — "We've always been grateful for Rosie's ebullient support of the theater -- but now, most importantly, we are honoring her determination to bring the transformational power of the theater to a new generation of kids -- kids who wouldn't have gotten a chance to experience it otherwise," says Gretchen Cryer, president of the Dramatists Guild Fund. On April 20, the organization will honor Rosie O'Donnell and Rosie's Broadway Kids.at its annual benefit gala at New York City's Hudson Theatre. Cryer is a 1957 graduate of DePauw University.
The Fund's one-night-only event, Star Turns: Great Writers Thank Their Lucky Stars!, "will boast the talents of Alan Alda, Jane Alexander, Christine Ebersole, James Earl Jones, LaChanze, Nathan Lane, Jefferson Mays, Lin-Manuel Miranda, Idina Menzel, Brian Stokes Mitchell, Karen Olivo, Bernadette Peters, David Hyde Pierce and B.D.
Wong," reports Playbill. "The stars will be introduced by the writers whose work they will be performing."
The mission of the Dramatists Guild Fund is "to aid and nurture writers for the theater; to fund non-profit theaters producing contemporary American works; and to heighten awareness, appreciation, and support of theater across the country."
Rosie's Broadway Kids is an arts education organization dedicated to enriching the lives of children through the arts. Using professional teaching artists, Rosie's Broadway Kids provides instruction in dance and music and a professional theater experience for children who might otherwise not have the opportunity.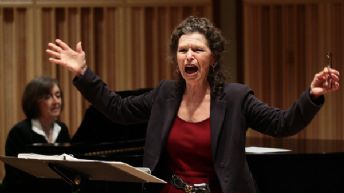 Read more at Playbill.com.
Gretchen Cryer was the subject of a New York Times story in April 2008. She and her DePauw classmate, Nancy Ford, are award-winning Broadway collaborators. The pair's works include I'm Getting My Act Together and Taking It On the Road , which premiered in 1978 and ran for three years, they recently presented a musical adaptation of Anne of Green Gables. Their Einstein and the Roosevelts is receiving its world premiere at DePauw last fall (photo at left, by Alex Turco '10, shows the duo at work at the Green Center for the Performing Arts). Read more here.
Back