James B. Stewart '73 Discusses Economic Crisis at Wooster Forum
April 5, 2009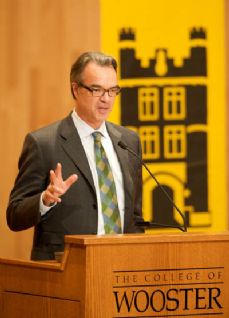 April 5, 2009, Greencastle, Ind. — "At this point, looking back, it is easy to say that all of the elements of an economic bubble were in place," according to James B. Stewart. The Daily Record of Wooster, Ohio reports, "A Pulitzer Prize-winning columnist for the Wall Street Journal said the term subprime mortgage was a relatively new one for him when it became the turning point in a crisis. James Stewart was one of three guests participating in 'Great Decisions in a Time of Economic Crisis' at the College of Wooster on Friday morning." Stewart is a 1973 graduate of DePauw University.
Linda Hall writes, "Stewart's quest to meet a subprime borrower 'having trouble making payments' took him to Dorchester, Mass., where the author became acquainted with a couple whose mortgage -- including associated fees and closing costs -- totaled 105 percent of the $570,000 home they purchased. 'They did not make the first payment,' Stewart said, nor did they make the second. In fact, not only did they have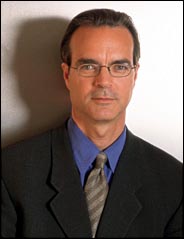 trouble making the $3,000 a month payment to begin with, but they never made it, he said. It turned out their mortgage was based on a 'shocking lack of care and flawed research' by the company that approved it and then 'put this loan into a package of loans,' which became part of still another package of thousands of other loans acquired by a purchaser of loans."
Stewart was joined in the discussion by Donald Kohn, vice chairman of the board of governors of the Federal Reserve System; and William Longbrake, the former chief financial officer of the Federal Deposit Insurance Corportation (FDIC).
Access the complete story -- headlined "Unwinding bubble created in financial world will take time, speakers say" -- at the newspaper's Web site. Video of Friday's presentation is also available there. Another summary can be found here.
A member of DePauw's Board of Trustees and former chair of the group, James B. Stewart received a Pulitzer Prize for Wall Street Journal articles on the 1987 stock market crash and the insider-trading scandal. Stewart's books include Blood Sport, DisneyWar: The Battle for the Magic Kingdom; as well as Den of Thieves; Blind Eye; Follow the Story and Heart of a Soldier: A Story of Love, Heroism, and September 11th.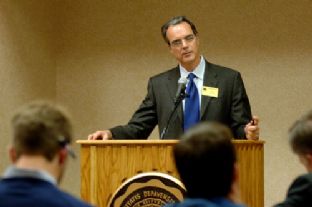 In 2006, he won the Loeb Award, the highest honor in business journalism.
The San Francisco Examiner calls Stewart, who served as editor of The DePauw while a student in Greencastle, "the journalist every journalist would like to be." He is editor-at-large of SmartMoney magazine and Bloomberg Professor of Business Journalism at the Columbia School of Journalism.
Jim Stewart received DePauw's Young Alumni Award in 1988, an Alumni Citation in 1988, and an honorary Doctor of Journalism degree in 1989. Learn more in this recent story.
Back