NPR Affiliate Recaps Todd Rundgren's Day at DePauw
April 21, 2009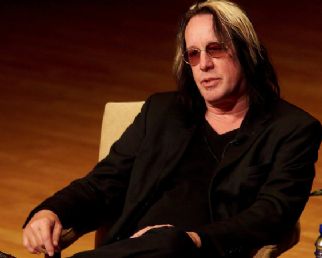 April 21, 2009, Greencastle, Ind. — "DePauw University's Timothy and Sharon Ubben Lecture series has hosted luminaries from Margaret Thatcher to Benazir Bhutto to Elie Wiesel," notes a report which aired tonight on Bloomington, Indiana, National Public Radio affiliate WFIU. "The headliner of the Spring 2009 Ubben lecture was a bit different. To say that Todd Rundgren is a legendary rock star might work as shorthand," reports Yaël Ksander, "but that's really just a placeholder," states Rundgren, who spoke at DePauw on April 8. (photo at left: Alex Turco '10)
The lengthy piece includes clips from Rundgren's talk on "Music, Technology and Risk-Taking" and an interview with Ken Owen, executive director of media relations at DePauw and coordinator of the Ubben Lecture Series.

It can be accessed at the NPR station's Web site.
A summary of Todd Rundgren's Ubben Lecture -- including video and audio clips and a complete MP3 file of the event -- can be found here. Also available is an article detailing media coverage of Rundgren's appearance at DePauw.
Established in 1986 through the generous support of 1958 DePauw graduates Timothy H. and Sharon Williams Ubben, the Ubben Lecture Series welcomed Jane Pauley last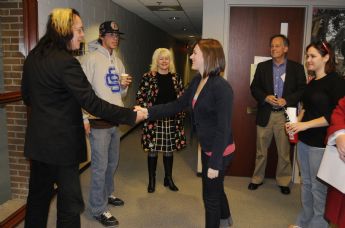 week. David Plouffe, Barack Obama's presidential campaign manager, visited the Greencastle campus in February, just thirteen days after the inauguration. Greg Mortenson, author of Three Cups of Tea, was a Fall 2008 guest. (at right: Rundgren greeting students at DePauw's WGRE)
To view a complete roster of Ubben Lecturers -- which includes links to video clips and news stories of speakers such as Margaret Thatcher, General Colin Powell, Doris Kearns Goodwin, Elie Wiesel, Spike Lee, Mitch Albom, Tony Blair and Benazir Bhutto -- click here.
Source: WFIU (NPR/Bloomington, Ind.)
Back