DePauw to Host 2010 NCAA Division III Indoor Track and Field Championships
July 9, 2009
July 9, 2009, Greencastle, Ind. — DePauw University will host the 2010 NCAA Division III Men's and Women's Indoor Track and Field Championships. The event is scheduled for March 12-13, 2010, and will be held on the indoor tennis and track center's James A. Hollensteiner Track.
"A total of 446 participants will compete in the championships," notes the NCAA's announcement. "The field will be announced March 8, 2010."
"We're thrilled to be hosting the track championships again," says Page Cotton, athletic director at DePauw, which was the site of the 2003 National Collegiate Athletic Association Division III Men's and Women's Indoor Track and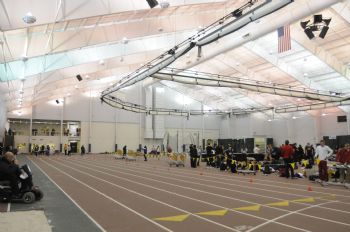 Field Championships. "DePauw has had a strong history of hosting NCAA events and we're looking forward to again showcasing the University."
For ticket information, visit the NCAA's Web site.
At the 2003 event, NCAA President Myles Brand said DePauw deserved a "gold star" for its efforts. "Not only do I compliment them, I thank them. DePauw is doing an incredible job. This is not the easiest thing to do. It's quite special," he declared. Read more here.
DePauw's indoor tennis and track center, which was dedicated on April 27, 2001, has also been the site of the Division I Horizon League track and field championships in 2009, 2005, 2004 and 2002. In the last decade, the University has also served as NCAA postseason hosts in softball, men's and women's basketball, men's and women's soccer, men's and women's tennis.
Back