Firm Led by Justin Christian '95 Bringing 200 High-Paying Jobs to Indianapolis
December 16, 2009

December 16, 2009, Greencastle, Ind. — "One of the state's largest computer consulting firms is bringing 200 top-paying jobs to the city, with the help of state and city economic development incentives announced Tuesday," reports today's Indianapolis Star. "Bucher + Christian Consulting also announced its new name, BC Forward, to reflect a second decade of planned growth, company executives said. President and Chief Executive Justin P. Christian said hiring of computer and business planning employees will begin in January, with hopes of creating and filling all the new jobs by 2012."
Christian, as a sidebar to the story notes, is a 1995 graduate of DePauw University, where he majored in computer science. He and former business partner Tony Bucher co-founded the firm in 1998.
Bruce C. Smith reports that BC Forward "has about 550 employees, including 280 in Indianapolis and the rest scattered at clients in 39 states and an office in Cleveland, plus 30 employees in St. Petersburg, Russia. About 90 percent are full time with the company, and the remainder work on contracts. Christian estimated the new jobs will have average pay near $63 an hour."
"Two hundred new jobs is a big deal, especially when they pay three times the state average," Indiana Governor Mitch Daniels said at yesterday's announcement. "This is how jobs happen, when an entrepreneur takes a risk and starts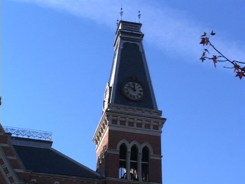 something."
Christian is a member of the boards of Goodwill Industries of Central Indiana and the Indianapolis Bond Bank and has served on DePauw's Alumni Board and the advisory board for the University's technology initiatives, 361°.
You'll find the full story at IndyStar.com.
In 2004, Justin Christian was cited as one of the Indianapolis Business Journal's "Forty Under 40." Read more here.
Back