Commencement DVD Now Being Manufactured, Will Ship Soon
June 2, 2010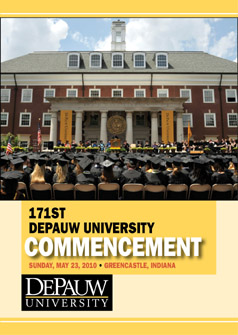 June 2, 2010, Greencastle, Ind. — The limited edition DVD of DePauw University's 171st commencement arrived at the factory last Thursday, four days after the event took place, and replication is under way. The dual-layer disc contains the entire graduation ceremony and several hours of bonus content and is expected to ship in about two weeks. (at left: front cover of the 2010 commencement DVD, back of jacket is seen below right; design by Kelly Graves)
Orders are now being accepted at $19.95 for the first disc; additional DVDs sent to the same address will be $8 each (7% sales tax will be added to
Indiana orders). An online order form is available here.
The four-camera production of the May 23 ceremony includes all of the speeches, including the principal address by marine biologist and conservationist Wallace J. Nichols '89. A photo gallery includes 420 images from commencement week. Other features include a series of clips covering the four years the Class of 2010 attended DePauw -- including the 2006-07 women's basketball team's national championship and Ubben Lecturers such as Tony Blair -- and highlights of the past four battles for the Monon Bell. Historic footage includes recently restored film of the 1960 commencement ceremony, which featured an address by the Right Honorable John G. Diefenbaker, prime minister of Canada.
The DVD also includes video of each graduate receiving his or her diploma. As in past years, the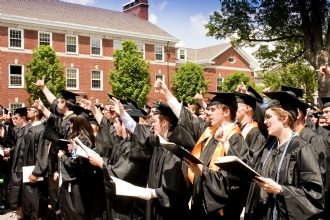 disc's menu will allow you to quickly access the spot in the program you want to see. If you're looking for a graduate whose last name is Taylor, for instance, you click on the letter 'T' in the menu, you're immediately taken to the first person whose last name begins with the letter 'T' receiving his or her diploma. Users can also jump to specific speeches, or watch the program from beginning to end. The DVDs are professionally replicated, not duplicated, and are housed in a decorative jacket.
This marks the 23rd DVD that DePauw has produced. Past projects include 11 Monon Bell Classics (1977, 1994 and 2001-09), some of which remain available here (supplies are very limited of the 2002 and 2007 DVDs). Also available are DVDs of the 2002-09 commencement ceremonies via this link.
For more information on DePauw's 171st Annual Commencement, click here.
Back