Contradictions Make Problem-Solving Difficult, According to Lee Hamilton '52
July 3, 2010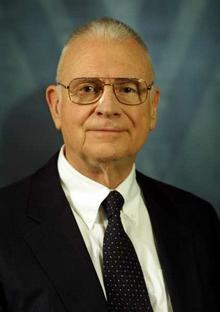 July 3, 2010, Greencastle, Ind. — "The Gulf oil spill has laid bare a series of shortcomings in the government's ability both to prevent and to respond to such a crisis, and the result is spiraling public frustration," according to Lee Hamilton. In a newspaper op-ed, the veteran statesman and 1952 graduate of DePauw University notes, "But it might not hurt for members of the public to save a little of that frustration for themselves. Because anyone trying to figure out what Americans want from government as a result of the mess in the Gulf can only be left scratching his head."
Hamilton, a Democrat who served 34 years in the U.S. House of Representatives, writes, "They want the government to take decisive action, but not at too great an expense or with too much interference in private oil companies. They want to beef up regulation of the oil industry, but don't want to stifle efforts to secure our energy independence. And the Gulf spill is hardly the only issue on which we as Americans contradict ourselves. In a recent USA Today/Gallup poll, almost two-thirds of those surveyed put a high priority on halting the flow of illegal immigrants into the country; yet even more -- almost three-quarters -- also say that they are somewhat or very concerned that tougher immigration laws would lead to
harassment of Hispanics."
We're also of two minds when it comes to our attitudes toward health care reform and reducing federal red ink, Hamilton declares.
"The key problem is that Americans want limited government, but keep demanding expanded government services," he states. "The truth is, politicians represent the people rather precisely -- and certainly better than most people think ... Politicians may, in fact, be fairly criticized for avoiding hard choices, refusing to ask constituents for short-term sacrifice in exchange for long-term gains, and for putting off the day of reckoning. But they understand accurately that their constituents often want contradictory things, and may well punish at the polls members who speak frankly and make tough choices." (at left: Hamilton speaking at DePauw Discourse 2008)
Hamilton concludes, "It is unfair, then, to place all the onus for government's failings on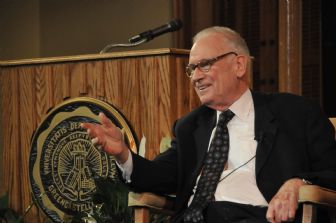 our politicians. We -- all of us -- deserve some of the blame. Americans must understand our own responsibility for creating the problem if we want politicians to fix it."
You'll find the complete essay at the Web site of California's Downey Patriot.
The author of Strengthening Congress, and How Congress Works and Why You Should Care, Lee H. Hamilton co-chaired the 9/11 Commission and Iraq Study Group and is currently co-chairing the Blue Ribbon Commission on America's Nuclear Future. Learn more about the former congressman, who was a standout basketball player at DePauw, in this recent story.
Back