Senior Writes of Summer Internship at Lake Tahoe Newspaper
August 29, 2010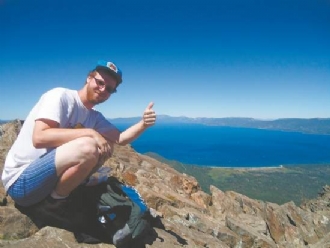 August 29, 2010, Greencastle, Ind. — "'I need to be near mountains,' I told my professor. 'I don't really care what I am doing, just get me to the mountains,'" writes DePauw University senior Jack Simon in the Lake Tahoe Action. Simon spent the summer interning at the weekly newspaper. His "farewell" column continues, "'Well,' said Dr. Dave Bohmer, director of the Media Fellows program at DePauw University in Greencastle, Ind. 'We've got a guy in Tahoe. How does that sound?' That's how it all started." (photo: Simon after scaling Mount Tallac)
The lengthy
piece concludes with Simon noting, "As much as I would love to remain in the Tahoe area, the time has come for me to return to the Midwest. I've got one more year of school before I can finally put that B.A. after my name. As a newspaper intern I have been able to experience so many remarkable things. I saw Chicago and the Doobie Brothers, went jetskiing for free, took a ride on the M.S. Dixie II and met so many great local characters that I couldn't help but love it here.
While I am not sure what the future will bring for me, I know I'm going to do my best to make sure that I end up back here someday."
You'll find the complete text -- "Confessions of a newspaper intern" -- at the paper's Web site.
Back