Carolina Chocolate Drops, Deemed "Must-Hear" at Bonnaroo, Perform at DePauw November 30
November 22, 2010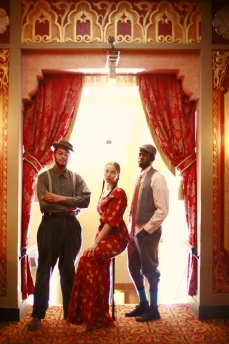 November 22, 2010, Greencastle, Ind. — Acclaimed Nonesuch recording artists Carolina Chocolate Drops -- one of Spin's "30 Must-Hear Artists at Bonnaroo Festival" -- will come to DePauw University for a free concert on Tuesday evening, November 30. Presented by the DePauw Performing Arts Series, the music will begin at 8 p.m. in Moore Theatre, located in the Green Center for the Performing Arts, 605 South College Avenue. There are no reservations; seating is first come, first served. Doors will open at 7:30 p.m. (photos by Julie Roberts)
Carolina Chocolate Drops -- Dom Flemons, Rhiannon Giddens and Justin Robinson -- have been playing music together as a trio since the group formed in 2005 following the members' pilgrimage to the Black Banjo Gathering in Boone, North Carolina. The Chocolate Drops play a combination of traditional stringband music and newer compositions rendered in a traditional style, all flowing out of the traditional Piedmont style native to the Carolinas. In particular the Chocolate Drops have been heavily influenced by the great African-American oldtime fiddler Joe Thompson.

Adding occasional bones, autoharp, jug and snare drum to the ubiquitous guitar, five-string banjo and fiddle, the Carolina Chocolate Drops are one of the only African-American traditional stringbands in existence today. While southern
stringband music had been part of African-American music since at least the early nineteenth century, by the mid-twentieth century "oldtime" music had all but disappeared from the repertoires of most African-American performers. Over the years since the second world war a few individuals kept with the traditional music, and now, thanks to young innovators such as Carolina Chocolate Drops, the music is enjoying a bit of a renaissance.
In a New York Times review of "Carolina Chocolate Drops' end-to-end display of excellence" -- a concert at the Schomburg Center for Research in Black Culture in Harlem -- Ben Ratliff opined, "The Chocolate Drops aren't glib or pure or ritually brilliant; they don't make you stand back and feel humble. They dip into styles of Southern black music from the 1920s and '30s -- string-band music, jug-band music, fife and drum, early jazz -- and beam their curiosity outward. They make short work of their instructive mission and spend their energy on things that require it: flatfoot dancing, jug playing, shouting. And they remind you of something you probably hadn't thought much
about when it comes to American traditional music, which is that youth has an advantage."
San Francisco Weekly exclaimed, "Among the dozens of hot bands currently mining the pleasures of old-time music -- from bluegrass revivalists Old Crow Medicine Show to folk-blues partymakers The Devil Makes Three to raggy specialists Pokey LaFarge and the South City Three -- Carolina Chocolate Drops are something else."
The Chocolate Drops' major label debut, Genuine Negro Jig, was released earlier this year on Nonesuch. They have appeared on numerous public radio programs such as NPR's Fresh Air and have opened live performances for such folk/roots luminaries as Taj Mahal.

Learn more about Carolina Chocolate Drops at the band's website.
For information about the November 30 concert at DePauw, contact Ron Dye at rdye@depauw.edu or (765) 658-4689.
Back