Sarah McIlroy '91 Introduces Girls to the Possibilities of Engineering
March 4, 2011

March 4, 2011, Greencastle, Ind. — Sarah A. McIlroy "grew up loving numbers and science. She immersed herself in mathematics and biology in college, earning degrees in both at DePauw University in Indiana," notes a McClatchy Newspapers story on McIlroy, an engineer for Stantec in Sacramento, California, and 1991 DePauw graduate. The article tells how McIlroy met a group of Brownies as part of international "Introduce a Girl to Engineering Day."
"The roads you drove here on were all engineered," McIlroy told the 8 and 9-year-old girls. "The lights are made by engineers. The water you drink is clean because of engineers." By pursuing careers in engineering, girls "can feel positive about making a change in the world," she stated.
Darrell Smith writes that McIlroy "earned a master's degree in civil engineering in 1997 and quickly landed a job at Stantec's Salt Lake City office. She was one of the only women in the office, but her supervisor was also a woman and an important mentor. McIlroy, whose engineering expertise is in storm water and hydrology, has since climbed the ranks from junior to senior to project engineer to managing other engineering staff at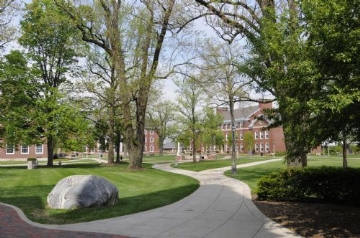 Stantec as a senior managing associate. Today, she talks with girls and young women from elementary school to the University of California, Davis, and California State University, Sacramento, about pursuing engineering careers."
"We need to remember to do this all year long," McIlroy tells the newspaper. "The more we can do this as professionals, the better."
Read the complete story at the website of Washington State's Bellingham Herald.
Back