Richard Peck '56 Selects Winner of School Library Journal Kids' Book Contest
April 11, 2011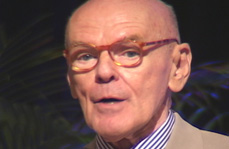 April 11, 2011, Greencastle, Ind. — Richard Peck, the first writer for young readers to receive the National Humanities Medal and 1956 graduate of DePauw University, has selected Jonathan Stroud's The Ring of Solomon as the grand prize winner of School Library Journal's "Battle of the Kids' Books" contest. The other finalists in the five-week contest were Kathi Appelt's Keeper and Megan Whalen Turner's A Conspiracy of Kings.
"In the end, Peck went with The Ring of Solomon, saying in his April 4 blog post that he didn't expect to pick 400 pages of magic fantasy with Biblical allusions and a footnote on the Song of Solomon," notes the Journal. "But that's exactly what he did because 'its very length and the wit of its diction are stinging retorts to both the grade-level textbook and Facebook,' he wrote. 'And because the fun is in how the tale is told, the yarn spun. Jonathan Stroud doesn't control language; he unleashes it. The real magic here is in the turning phrase, and how much our texting young need that, and the liberation of laughter.'"
Read more here.
A former school teacher, Peck published his debut novel in 1972. Are You In The House Alone? won the 1978 Edgar Allan Poe Award. He won the Newbery Gold Medal in 2001 for A Year Down Yonder. A Long Way From Chicago was a National Book Award finalist as was his Civil War novel, The River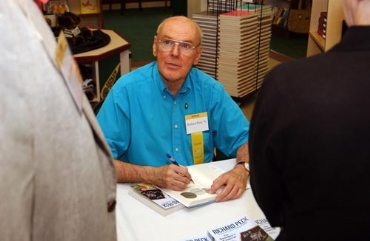 Between Us. USA Today calls Peck's latest work, Three Quarters Dead, "provocative and entertaining." (photo: Peck signing books at DePauw's 2006 Alumni Reunion Weekend)
All told, Peck has authored 39 novels.
After winning the Newbery Medal, Peck told DePauw.edu that the University

[Download Audio: "Peck on DePauw" 603KB] "made a writer out of me. It warned me never to show my rough draft to anybody. That helps. I write each of my books six times because I have to, and it's the sixth version my editor sees and nothing before that. I learned that from DePauw professors."
Back