Tigers Top Playoff-Bound Albion 7-3; Monon Bell is Next
November 5, 2011
Also: Monon Bell Page; HDNet Telecast Information; See 'Monon Memories'; Order Monon Bell Classic DVDs
November 5, 2011, Greencastle, Ind. — DePauw University won its third consecutive football game, shocking the playoff-bound Britons from Albion College 7-3 this afternoon at Blackstock Stadium. The Tigers managed only 126 yards of offense all afternoon, compared to 380 for the visitors, but prevailed on the strength of a strong defensive performance which led to three Albion turnovers.
DePauw is now 4-4 on the season. Albion falls to 5-4. The Britons had already clinched a share of the Michigan Intercollegiate Athletic Association title and earned the conference's automatic qualification into the NCAA Division III Championship.
An interception by DePauw's Mafileo Tupou set up a 7-yard touchdown run by Bryan Coleman (pictured at right), giving the Tigers a 7-0 lead in the second quarter.
A second interception put the Tigers back in business, but a 29-yard field goal attempt just before halftime by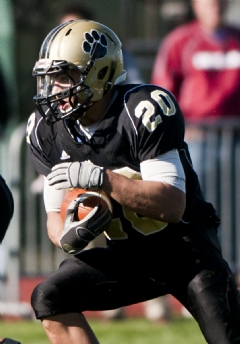 Eric Malm hit the left upright.
DePauw's defense pitched a shutout until 9:31 remained in the game, when the Britons' Nick Pendell kicked a 38-yard field goal, bringing the Tiger advantage to four points.
Senior quarterback Will King, making his first-ever start (he was the backup to Stanford's Andrew Luck in high school), was 7-of-16 for 69 yards. The ground game was led by Coleman's 40 yards on 18 carries, including the aftenoon's lone TD. DePauw had eight first downs compared to 20 for Albion.
The two teams, who first met in 1920, played for the first time since 1997. Today's outcome gives DePauw a one-game lead in the all-time series, 15-14. In games played at Blackstock Stadium, the Tigers hold an 11-6 advantage over the Britons.
The game featured two of the winningest programs in Division III history as Albion came in tied for 10th with 576 wins in 125 seasons; DePauw is 17th with 543 victories in 124 campaigns.
For comprehensive coverage of today's game and historical information, visit the football team's official online page.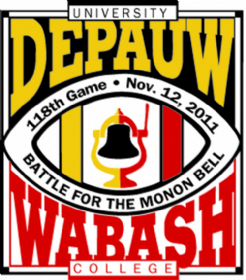 Next up for the Tigers is the traditional season finale, the 118th Monon Bell Classic versus Wabash College, next Saturday at Blackstock Stadium. DePauw's allotment of tickets is sold out. Kickoff is set for 1:07 p.m. The game will be seen nationally on HDNet, with the high definition telecast beginning at 1 p.m. The network is available in millions of homes, and many fans will again attend telecast parties across the USA, which are arranged by DePauw and Wabash alumni.
Wabash leads the all-time series 55-53-9, while DePauw leads in games played for the Monon Bell by a 37-36-6 count.
A complete roster of "Monon Memories" -- video highlights of past classics -- can be found here.
Pre-orders and now being accepted for the 2011 Monon Bell Classic DVD, which will include this year's contest and a range of bonus material, including photo galleries and historic clips from past games. Learn more, and place an online order, by clicking here.
Back