Athletics Campus Improvements
The Athletics Campus provides training and competition venues for each of DePauw's outdoor athletic teams. Phase One improvements to the Athletics Campus are scheduled for completion in the spring of 2014.
Project Overview
Proposed enhancements to DePauw's Athletics Campus in Phase one of the Athletics and Recreation Facilities Master Plan focus primarily on providing quality competition surfaces for multiple varsity athletic teams and implementing projects that must be sequentially completed to allow for future improvements.
Installation of Synthetic Turf at Blackstock Stadium

In order to provide a consistently playable surface, synthetic turf will be installed at Blackstock Stadium.
Track and Field Enhancements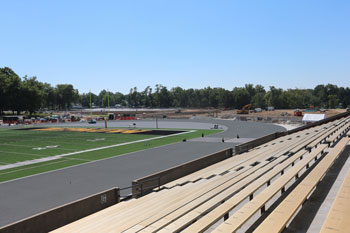 The installation of a synthetic surface at Blackstock Stadium necessitates the construction of new track and field facilities. Throwing events, in particular, cannot take place on a synthetic surface without damaging the facility. A new facility for these events (javelin, hammer, discus and shot put) will be constructed just west of the railroad tracks on the western edge of the athletic campus. Additionally, due to the width of a synthetic surface at Blackstock Stadium, runs and jumps will be located on space made available by the demolition of the visitor's stands. (During the football season, temporary bleachers will be erected.) 

Construction of Multisport Stadium and Practice Field
A new multisport stadium, supported through a gift from Marshall '84 and Amy Reavis and located immediately south of Blackstock Stadium, will provide a championship-quality competition venue equipped with synthetic turf. The adjacent practice field, to be constructed parallel to, and immediately east of, the competition field will initially be planted with Bermuda grass, but will eventually be replaced with a synthetic surface. The competition field will provide the permanent home for men's and women's soccer and men's and women's lacrosse. The stadium will also provide a competition venue for field hockey. Additionally, the multipurpose stadium will provide a lighted venue for intramural sports as well as locker rooms for varsity athletic teams.

New Parking Spaces
With the new multipurpose stadium resting on the site of an existing parking lot, new parking will be constructed to the south of the new stadium and to the east of its practice field.
Partial Renovation of Hanna Street
The streetscape between Blackstock Stadium and the multipurpose stadium will be renovated upon completion of enhancements to the field and track at Blackstock and the completion of the multipurpose stadium.
Renderings of the Proposed Athletics Campus
---