Lilly Center Expansion and Renovation
The Lilly Center is the University's primary indoor fitness and recreation facility, and serves as the competition home for basketball, swimming and diving, and volleyball. Phase One improvements are scheduled for completion in fall of 2014.
Project overview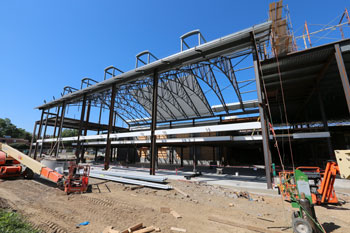 Phase One enhancements to the Lilly Center focus primarily on a 36,000 square-foot expansion, along with a renovation of existing space, designed to address University priorities related to fitness, training facilities and recreational programming.
Fitness Center
A new 16,000 square-foot, two-story fitness center will provide the primary training facility for each of DePauw's varsity teams and for the campus community. The new facility will more than triple the size of the existing fitness center. With the increased footprint, the facility will provide a venue fully capable of accommodating DePauw's integrated training model—the University's preferred approach—in which student-athletes train alongside non-athlete students.
Multipurpose rooms
Three multipurpose rooms—primarily to support fitness classes, spin classes, and dance—will be constructed in space vacated by the existing fitness center. These new spaces will triple the space currently available for these activities, and will help the University meet a growing student, faculty and staff demand for organized fitness classes.
New roof for Erdmann natatorium
To accommodate future enhancements to the Lilly Center, the roof of the pool will be raised and replaced. Whereas the current roof slopes towards the east, the new, two-story, roof will make it possible for the existing natatorium to be converted to a practice gymnasium upon the future construction of a new 50-meter pool in Phase Three.
Kinesiology office and laboratories
A renovation of space currently occupied by underutilized racquetball courts will more than double the office and laboratory space currently available for the Department of Kinesiology, a department that has struggled to accommodate a significant increase in the number of majors, particularly given the discipline's heavy research focus.
renovation of locker rooms
New recreational locker rooms will be constructed within existing space vacated by the Kinesiology Department.
Administrative offices and spaces
The expansion of the Lilly Center will enable expansion of spaces currently used for administrative activities, such as team meetings. Office spaces will also be renovated.
Renderings of Lilly Center Expansion and Renovation
---