Student Loan Office
'The World of Student Loan Repayment'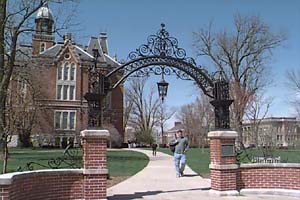 Repaying a debt may be a new experience for you! This new world of student loan repayment carries with it both rights and obligations. As a consumer, you have the responsibility to repay the debt according to the rules agreed upon at the time you sign the promissory note. You will need to be familiar with those rules in order to understand your obligations.
The Student Loan Office at DePauw is your best source of information if you have a question. Keep in mind that DePauw is the lender for the Federal Perkins and DePauw Institutional Loan Programs. The lender for the Federal Stafford Subsidized and Unsubsidized, PLUS (Federal Family Education Loan Programs) or Alternative loans are banks and credit unions. The lender for the Federal Stafford Direct Subsidized and Unsubsidized student loans is the Department of Education. The Department of Education has contracted with several different loan servicing companies to service these loans. To find who your servicer is for a Federal Stafford Direct Subsidized and Unsubsidized student loan, go to NSLDS.ed.gov. The Student Loan Office has your complete borrowing record on file.
Because the Student Loan Offices is small, it has contracted with a billing service located in Oak Brook, IL. ACS Education Services will send out computerized bills, messages and processes certain forms and cannot deviate from Federal guidelines. All the words used in messages are often mandated by Federal regulations, either from a particular student loan program or from the Fair Debt Collection Act.
If you do not get a bill when you should, or if you just are not clear on some aspect of your student loan - contact the Student Loan Office. You will be moving around --DePauw will be in the same place it has been since 1837! You are part of the most mobile segment of the U.S. population. It is important to keep us notified of your current address.
A healthy credit future depends on a good credit history! You have entered the credit world through your student loan. The loan is just as important as any other debt you will incur. Student loans are not much different than a car loan, or any other loan, in that they do have to be repaid. When you apply for a loan to purchase a car or a home, etc., your student loan repayment history will be important. The big difference is that student loans have such a variety of privileges that it is sometimes difficult for the borrower to understand the details of those privileges.
Feel free to contact the Student Loan Office at (765) 658-4195 or e-mail studentloanoffice@depauw.edu if you have any questions or concerns.