Campus Farm
Who wants some good food?
Tell me about the campus farm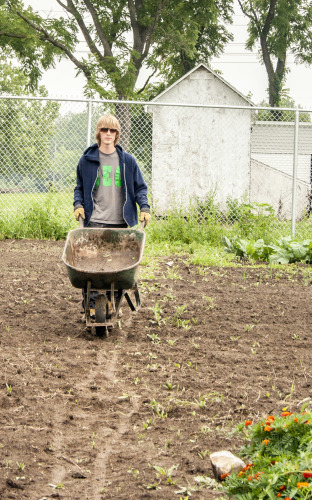 The DePauw Campus Farm is a one-and-a-half acre plot located near the Prindle Institute for Ethics. Founded in 2013 and now entering its third season, over 300 DePauw students volunteer at the campus farm each season.
WHY Do we have a campus farm?
Our mission is to 1) Enrich the educational environment of DePauw through experiential education, research and enhanced classroom opportunities; 2) Provide a living example of the sustainability principles outlined by the DePauw University Sustainability Initiative; and 3) Provide sustainably grown produce to the campus and community.
WHO'S DOING THE WORK?
We are staffed by one staff member and several DePauw students, Sustainable Agriculture interns. We could not be successful without the generous donation of time from both our DePauw and Greencastle communities.

WHAT DO YOU GROW?
Lots of things! Tomatoes, squash, peppers, pumpkins, eggplant, cabbage, melons, spinach, collard greens, beets, onions, lettuce, kale, cucumbers, corn, green beans, potatoes and more. We harvest nearly 6,000 pounds of food each season.
IS THE FARM ORGANIC?
Though we will not be applying for organic certification at this time, the DePauw Campus Farm abides by organic practices.
WHERE DOES THE FOOD GO?
Ten percent of the harvest is donated to our local emergency food pantry and the rest is used in DePauw's Bon Appetit kitchens.
HOW CAN I HELP?
Volunteer hours are typically on Tuesday and Wednesday evenings from 6-8pm from June to October. Want to bike to the farm? Check out our video for directions.
Email Anthony Baratta (anthonybaratta@depauw.edu) for further updates on Campus Farm needs. We have had entire athletic teams out to the farm to help weed and harvest, including the men's and women's basketball teams, the softball team and the men's lacrosse team. Come out and join us soon!