Carbon Footprint
A dedicated team of faculty, staff, and students in the Energy and Climate Working Group put hours upon hours for close to a year searching for and processing three fiscal years of data from all sectors and departments of the university. It was a challenging process for several reasons at DePauw University. We asked for information that had never been previously asked for so it had not been collected. There were confidentially issues with some departments which made it difficult for student volunteers to gain access. And, there was no centralized location to access information so much of the time was spent locating the data. After late nights and long hours spent working on spread sheets, and on track with the requirements of the American Colleges and Universities Presidents' Climate Commitment, DePauw completed its greenhouse gas emissions inventory, otherwise known as our Carbon Footprint, on September 15th, 2009.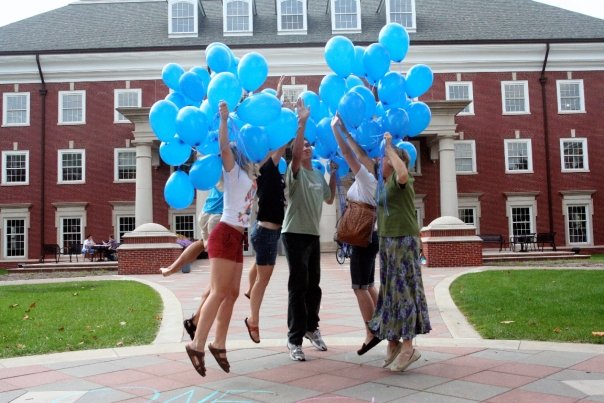 Our results can be found on the Reporting Page of the ACUPCC's site, here.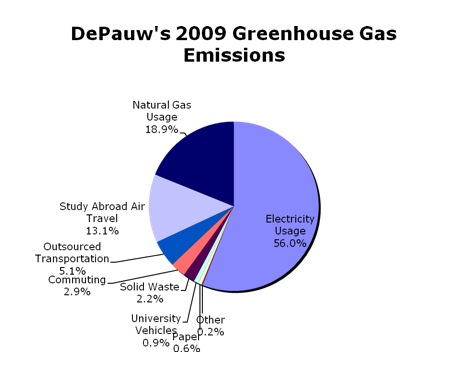 The inventory serves as a benchmark to assess our current emissions in order to propose future plans to reach our goal of carbon neutrality. Our gross emissions (scope 1 + 2 + 3) are 38,716 metric tons of CO2e each year.One way to visualize our carbon emissions is to imagine burning down our roughly 480 acre nature park—annually. It's approximately the equivalent carbon emissions!

Our 2009 Carbon Footprint is just the first in a series as we implement more initiatives to cut our greenhouse gas emissions. Check out the Climate Action Plan page to see some of our proposed initiatives and feel free to give us feedback by e-mailing us!