Recycling
From A to Z, all of your DePauw recycling needs and Qs.
What is RECYCLABLE?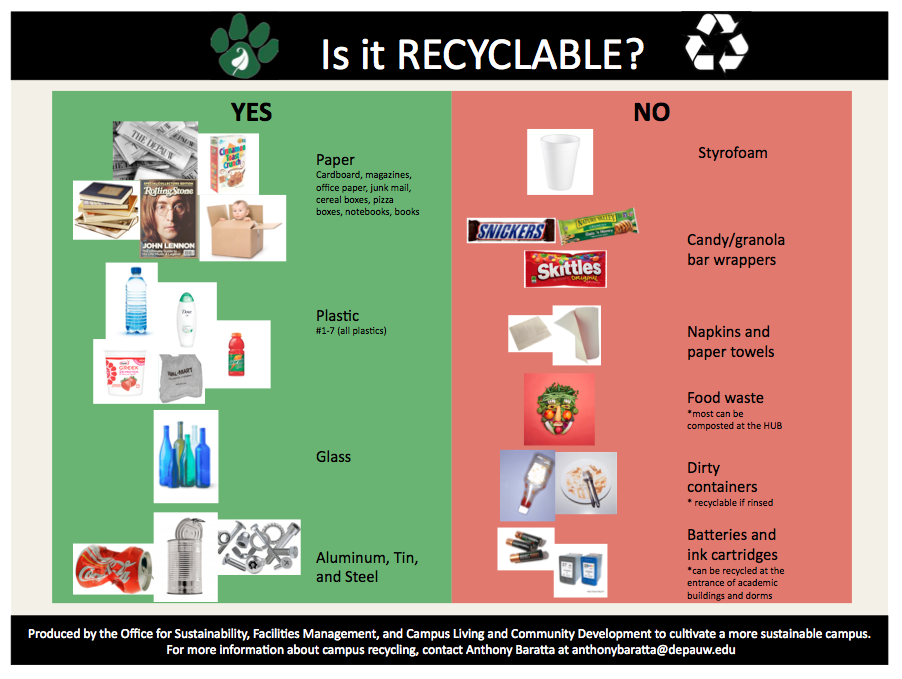 Download the pdf verison that explains what is and is not recyclable here.
Facilities and Recycling

x 643 = batteries recycled in 2012


= 23,452 pounds of shredded paper recycled in 2012. That's a 397% increase in recycling from the amount recycled in 2007.

= 50,773 pounds of recycled glass and plastic for all of the buildings on campus during 2012. The Julian Science & Math Center alone recycled 8,078 pounds of material.
@DePauwSustain on Twitter
---
Tonight in the Hub: Daseke Board Room! At 5:30! @DePauw_Dining http://t.co/w2ehmg8Aym
6 hours ago
From Sandra Steingraber's talk: is this accurate/feasible for Indiana? A #blueprint for the future http://t.co/eDeKcclSHF
yesterday
"The root cause of most of these problems [associated with climate change] is fossil fuels." -Sandra Steingraber
yesterday
"Fish can no longer smell due to the increased level of acidity in the oceans via climate change." -Sandra Steingraber
yesterday
"What are our obligations to future generations?" -Sandra Steingraber
yesterday
You've got 7 minutes to get to UB 231 for the Q&A session w/ Sandra Steingraber! (That means you can make it from any building on campus..!)
yesterday
Hey @DePauwU- Everyone coming for free food and great music at Hub patio at 5:30? #HappyEarthDay
2 days ago
Eco-Reps chalking for Sandra Steingraber talk! Q and A tomorrow at 4 in UB 231 and lecture at 7:30 in… http://t.co/wfwr14gjrB
2 days ago
Anyone into fashion? We have 2 tix to the Aveda Earth Month 2014 'Catwalk for Clean Water' this weekend! Sunday 1pm. Message if interested!
2 days ago
44 years ago
44 years ago
44 years ago
44 years ago
44 years ago
44 years ago
44 years ago
44 years ago
44 years ago
Recycling
---