Mission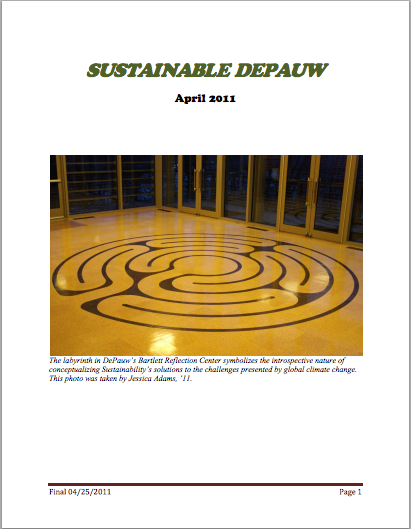 Sustainable DePauw
Sustainable Greencastle
DePauw's Climate Action Plan and Sustainability Master Plan - together forming "Sustainable DePauw" - represent the collective vision of students, faculty, staff, administrators and Greencastle's leaders for how DePauw can become a thriving, sustainable community while reducing its greenhouse gas emissions from 38,700 metric tons of annual CO2 emissions to zero by 2040.
These plans have been developed in partnership with The City of Greencastle, which has been recognized as Green City of the Year for four years consecutively. DePauw and Greencastle community members have worked closely to ensure that sustainability efforts are inclusive of all regional residents and leverage both the city's and University's strengths.
@DePauwSustain on Twitter
---
Thank you DePauw "Feminist Approaches to Environmentalism" class for the help at the farm. You rock! http://t.co/curSrBEI4D
7 days ago
DPU alum Wayne Hsiung discusses his work on animal rights and using direct action. Tonight at 4:15-6:00 in the Reese Hall Lobby.
8 days ago
@DxE_Wayne will be speaking at DePauw this Wednesday in the UB Ballroom Lobby at 11:15 and 4:15 http://t.co/qZVOyvu1ps
10 days ago
44 years ago
44 years ago
44 years ago
44 years ago
44 years ago
44 years ago
44 years ago
44 years ago
44 years ago