Mission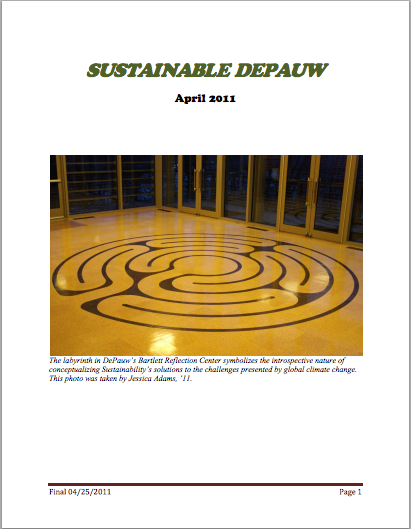 Sustainable DePauw
Sustainable Greencastle
DePauw's Climate Action Plan and Sustainability Master Plan - together forming "Sustainable DePauw" - represent the collective vision of students, faculty, staff, administrators and Greencastle's leaders for how DePauw can become a thriving, sustainable community while reducing its greenhouse gas emissions from 38,700 metric tons of annual CO2 emissions to zero by 2040.
These plans have been developed in partnership with The City of Greencastle, which has been recognized as Green City of the Year for four years consecutively. DePauw and Greencastle community members have worked closely to ensure that sustainability efforts are inclusive of all regional residents and leverage both the city's and University's strengths.
THE PROCESS
While it took 18 months to complete our Climate Action Plan, we believe the experience led to an inclusive, comprehensive approach to achieving carbon neutrality.
We formed three main groups: Education, Facilities and Infrastructure, and Community and Communication. Within these groups, there were several subgroups such as Transportation, Grounds, and Curriculum that met regularly throughout spring semester 2010.
At the end of the semester, we compiled all of the projects and invited everyone to assign project priorities according to project cost and impact. Each project was categorized as: high impact/low cost, high impact/high cost, low impact/low cost, or low impact/high cost.
Kate Wright '11 and Gary Pett '11 place emissions-reducing campus projects on an impact grid.
GOALS
The Plan outlines nine interconnected goals that will position DePauw as a model of sustainability in higher education:
Sustain and enhance sustainability-focused and sustainability-related curricular opportunities.
Sustain and enhance sustainability-focused and sustainability-related cocurricular activities.
Create a campus-wide culture of conservation.
Continue improvements to energy efficiency.
Create a more sustainable campus transportation system.
Invest in renewable energy projects.
Review University investment opportunities to further include sustainability-focused and sustainability-related funds.
Enhance sustainability service opportunities and create local carbon offset projects and programs.
Serve as a regional leader in promoting sustainability.
@DePauwSustain on Twitter
---