Let the Energy Games Begin!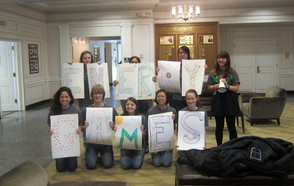 February 18, 2013
Today marks the first day of our annual Energy Games! And boy, did we begin with a bang!
This morning at approximately 11:45 a.m., the DePauw Environmental Club flash mobbed the hub! To raise awareness about the competition that will continue for a three-week period (ending on March 10), the group chanted on the steps of the dining hall, wearing their DEC t-shirts and holding letter signs spelling out "ENERGY GAMES". The group also made a sheet sign so that students, faculty, and staff can see the current standings of the competition in the hub.
The Energy Games this year is a three-part competition. Similar to year's past competitions, there will be a competition amongst the different dorms on campus and the different Greek houses on campus. This year marks the beginning of the Asbury-Harrison competition. The goal: to see who can reduce the most electricity usage! Because it is a competition measured in percentage of energy reduction, Sigma Nu can fairly compete against Kappa Alpha Theta. And Zeta Phi Beta can compete against Phi Kappa Psi. And Harrison Hall can compete against Asbury Hall.
Who do you think will win this year's Energy Games? Tweet your predictions to @DePauwSustain using the hashtag #EnergyGames!