Community Bikes Spring Roll Out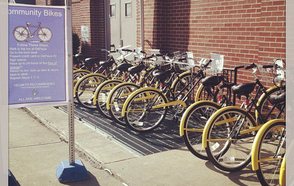 April 5, 2013
The Community Bikes made their spring debut today on a sunny April afternoon.
Building on the success of last year's program, the Office for Sustainability hopes to expand ridership both among the student body and also members of the Greencastle community. "We're excited that this program is open to everyone, whether it's someone going for a ride in the Nature Park or riding out with their kids to Dairy Castle," said Assistant Director for Sustainability Anthony Baratta. The twenty bikes were funded by businesses in Greencastle and DePauw University Student Government.
The bikes are available for rental in the Inn at DePauw, located on 2 West Seminary Street. Rental periods are 24 hours and completely free to the user. A credit card or a DePauw student ID are required for registration.
Thank you to the Community Bike sponsors: Dairy Castle, Feld's Carpet, Covered Bridge Cyclery, Chief's Restaurant, Casa Grande Mexican Restaurant, Park Firebaugh, DDS, DePauw University, DePauw University Student Government, People Pathways, and Case Chiropractic