Student Sustainability Fund Grants Awarded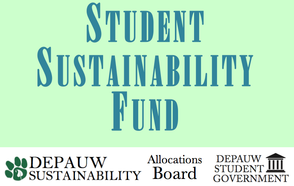 April 3, 2013
After reviewing more than thirty applications, the DePauw Allocations Board has selected six projects to receive funding from the Student Sustainability Fund and are considering more. The range of projects funded is broad: from bringing speakers to campus to university scales, the Office for Sustainability is thrilled with the results.
The projects to receive grants are 1) a scale for DePauw University that would increase the opportunity to weigh recyclables and increase recycling efforts on campus, 2) a fridge for the Greencastle food shelf in order to receive and preserve food donations from the Campus Farm, 3) an app creation competition that would award the best sustainability app with a cash prize, 4) funds to bring a speaker to campus for the Divestment Rally on April 13, and 5) funds to subsidize student ticket prices for the Campus Farm Kick Off dinner.
We look forward to the successes that these grants will bring to our campus and community and the continuation of the Student Sustainability Fund for next year.