Harrison Hall Victorious in First Academic Energy Games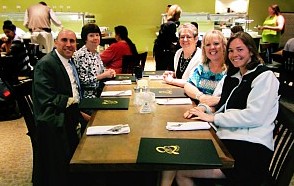 April 18, 2013
This spring, for the first time in Energy Games history, the annual conservation challenge extended to DePauw's faculty and staff members as well as its students. Sitting opposite each other on Holton Memorial Quadrangle, Asbury Hall and Harrison Hall faced-off during a three-week contest to cut back on energy use, pitting psychology against sociology and history against English. In the end, the residents of Harrison Hall were victorious, securing for the building's administrative assistants a free lunch courtesy of President Brian W. Casey.
Harrison Hall led the academic standings for all three weeks of the competition, as did Delta Upsilon among Greek competitors. College Street rallied from an early deficit to win the residence hall division, reducing its energy use by an average of 28.2 percent.
"We are thrilled to have completed another Energy Games competition," Assistant Sustainability Director Anthony M. Baratta '10 says. "We originally started out with just four dorms, and now we have the dorms, Greek houses and even academic buildings competing. President Casey deserves special thanks for lending his support to this effort."
Baratta helped to start DePauw's Energy Games in 2008 with fellow students Margaret "Maggie" B. Baber '11 and Taylor M. Cantril '11. Students continue to be the main drivers behind the competition, including members of the Office for Sustainability's Eco-Reps program and students in this year's "Campus, Climate, Action" course taught by Assistant Professor of Philosophy Jennifer Everett and Sustainability Director Carol Steele.
During the 2010 Energy Games – then known as Energy Wars – which coincided with the inaugural Campus Conservation Nationals, DePauw students out-conserved nearly 40 other competing campuses to win specialized energy-monitoring software for DePauw's residence halls.