Sustainability Leadership Program
The Sustainability Leadership Program (SLP) is a DePauw Office of Sustainability initiative and supported by the Environmental Fellows Program and Hubbard Center for Student Engagement. Through both paid and volunteer hands-on opportunities, students are equipped to navigate complex challenges and create lasting change to become the leaders of today and tomorrow. With over sixty students participating, SLP is the largest program of its kind in the country. Read more about the program here.
Interested in applying? E-mail anthonybaratta@depauw.edu to set up an interview.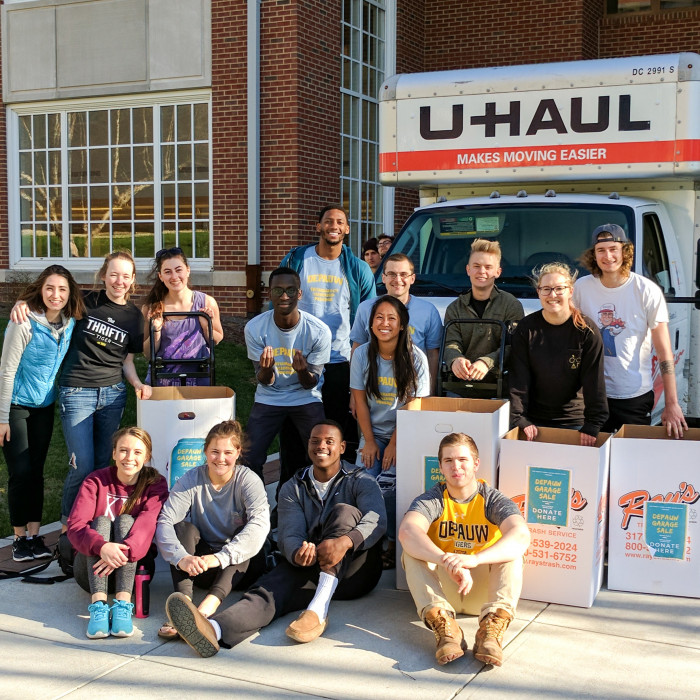 Student Positions AVAilable
start off as an Eco-Rep and progress to more positions as you gain leadership experience
Level 1: Eco-Rep
Join a team of 8-10 students and work on a campus sustainability initiative. Attend weekly meetings and our Alumni Speakers Series. Receive guided direction to make change!
Level 2: Student Project Manager (paid opportunity, 10 positions available)
Develop leadership skills by managing your Eco-Reps group for one of six projects. Learn what it's like to run a nonprofit or small business by running our thrift shop; make executive decisions at the DePauw Campus Farm; partner with Facilities Management on energy efficiency initiatives; prepare testimony for the Indiana General Assembly, and more!
Level 3: Student Director (paid opportunity)
The student director position in the Sustainability Leadership Program is a paid, co-curricular opportunity for experienced seniors. Students will help oversee the student project managers and the associated group projects.
How to Complete the Program:
students are not required to complete the program, but many choose completion as a goal
3-
Participate in an Office of Sustainability student position for at least three semesters (described in "Student Opportunities" below).
1-
Attend one Sustainability Leadership Institute retreat
Questions? Feel free to e-mail Sustainability Director Anthony Baratta (anthonybaratta@depauw.edu)