BigTree Training - Link to Resource
How do I link to a PDF file or other resource in BigTree?

First you'll need to upload the PDF/Document into the BigTree system as a Resource. To do so, click the Edit icon on the page you'd like to add the Resource to. Then look over on the right hand side for the red arrow icon that is labeled "Upload New Resource" (see the example image to the left).

Once your Resource is listed on the BigTree page you're currently editing, click and drag the Resource name (labeled "bigtree-training-by-depauw---updated.docx" in the shown example) from the resources section over into the "Page Content" block (shown to the right). Wherever the cursor (shown as a black line) appears as you drag will be where the link will end up.
If you don't like the wording of your new blue link, you can alter it. We suggest you use your mouse to select all but the first letter of the blue link text. Type in your preferred link text and then delete the stray letter when finished.
Click Save & Publish and then check your new link on the site!
Linking to a Resource located on a different BigTree Page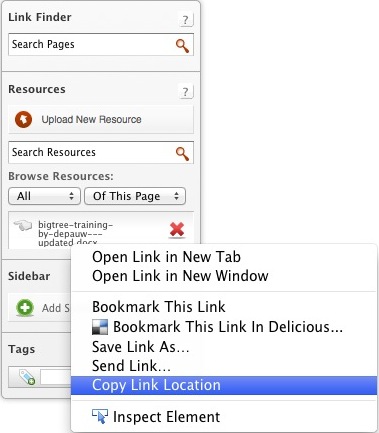 Part 1 - Get the Resource Link
If your resource needs to be linked in more than one BigTree page, you'll have to get its link from its original page. Click the Edit icon on the original page (the one you uploaded the Resource to) in the BigTree Admin screen.
Once you've located the Resource in the right hand bar, you'll want to right click on the resource name. Choose "Copy Link Location" from your pop-up menu. (Please note, these instructions were written for Firefox users). This will copy the URL to your clipboard for later. (See example on right).
Alternate Method
This could also be accomplished by navigating to the link on the DePauw BigTree site (rather than the Admin screen) and locating the link. Right click the link then choose "Copy Link Location" from your pop-up menu.
Part 2 - Paste the Resource Link
Now that you have your Resource URL/Link copied to your clipboard you'll need to get back into the BigTree Admin screen. Click edit on the other BigTree page(s) you'd like to place your link.

With your mouse select the text you want to be linked to the Resource within the Page Content block and then click the link icon located in the second row on the left hand side of the Page Content editor. (shown right).
Another window will pop up (shown below). Paste your link into the URL bar and then click the "Add Link" button.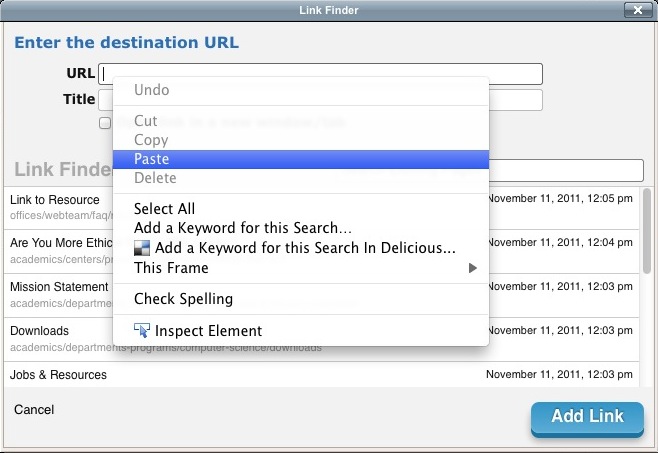 Click Save & Publish and then check your new link on the site!