DePauw Student Government
Highlights
NEW Student Forums to begin next year
Student Forums will take the place of DSG Assembly Meetings starting next fall. The student forums will require the attendance of the Executive Board, Senate Chamber, Representatives Chamber, COs, and FOs. The Student Forums will remain open to the public.
Read More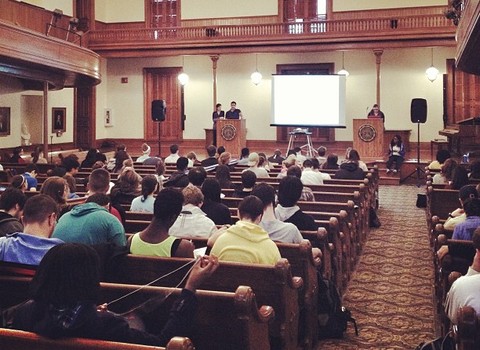 Welcome to the DSG Website!
This semester, we are working on revamping the DSG website! We hope you find this far easier to navigate and full of relevant information to keep you informed about what your student government is doing on-campus to positively affect the lives of the students at DePauw University!
If you have any questions, concerns or suggestions, please contact Erin Mann, Director of Public Relations.
@dpu_studentgov on Twitter
---
Hey First-Years! If you're interested in becoming a First-Year Senator, election packets are due at 4:15pm on Monday! http://t.co/5jzowtSETi
2 days ago
That's our VP of Community Relations!! https://t.co/5qdu5ii55p
2 days ago
Be sure to get to the @DPUVB game!! First 50 people get free Myers, $4 for everyone else. Let's cheer on the hardworking girls on the team!
3 days ago
Check out our ad in @TheDePauw!! Get involved, help leave a legacy at DePauw with us! http://t.co/1WrCj21yCr
3 days ago
Be sure to stop by East College lawn today from 4-5pm for free ice cream provided by the @DePauwCSL!
6 days ago
Become a first-year senator! Help be the change that you want to see in DePauw http://t.co/OJIThpFhAZ
7 days ago
45 years ago
45 years ago
45 years ago
45 years ago
45 years ago
45 years ago
45 years ago
45 years ago
45 years ago