DePauw Student Government
Highlights
NEW Student Forums to begin next year
Student Forums will take the place of DSG Assembly Meetings starting next fall. The student forums will require the attendance of the Executive Board, Senate Chamber, Representatives Chamber, COs, and FOs. The Student Forums will remain open to the public.
Read More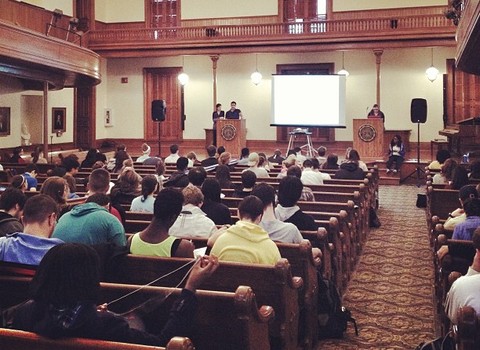 Welcome to the DSG Website!
This semester, we are working on revamping the DSG website! We hope you find this far easier to navigate and full of relevant information to keep you informed about what your student government is doing on-campus to positively affect the lives of the students at DePauw University!
If you have any questions, concerns or suggestions, please contact Simone Deighan, Director of Public Relations.
@dpu_studentgov on Twitter
---
Boys Basketball Senior Night!!! Cheer on the Tigers at 7:30pm against Wabash 🏀🏀🏀
2 months ago
Hope everyone has a very Merry Merry Christmas with family and friends! Thank you to DePauw for another rest semester ☺️🎄❄️
4 months ago
Happy, Happy Thanksgiving to all of our students and their families! Hoping everyone had an amazing day ☺️🍁🍂🦃
5 months ago
Happy Election Day!!!! 🇺🇸🇺🇸🇺🇸
5 months ago
Buy your Monon ticket and reserve a free seat on the bus for Saturday! (website included on the attached graphics) #MononBell2016 🔔🚌🏈🎟 https://t.co/abLflCtCxO
5 months ago
47 years ago
47 years ago
47 years ago
47 years ago
47 years ago
47 years ago
47 years ago
47 years ago
47 years ago