Psi Lambda Xi
DePauw's Local Sorority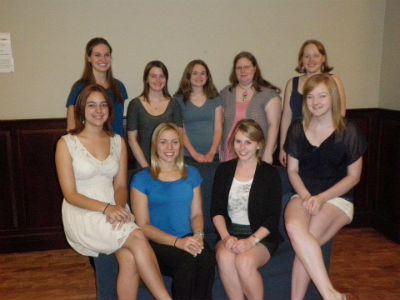 Founded on March 11, 2007, for the purposes of promoting positive self-concept in each other, the university, and the community through the bonds of sisterhood. We have no national affiliation and exist solely on this campus. We interact with the school and community by participating in philanthropic events, including hosting our own supply drive for local children. Other sorority activities include movie nights, informal parties, dinners, and formal dances. Funding for these events is provided by membership dues. Also, we are a non-residential sorority, meaning that we are not required to all live together, though some of our members do out of choice.
@psilambdaxi on Twitter
---
Are you wearing purple today for epilepsy awareness? #EpilepsyAwarenessDayMarch26th
3 days ago
Happy First Day of Spring!
9 days ago
RT @DPUStudentTech: SENIORS: Your DePauw gmail will be erased after graduation, come learn how to transfer your account on March 17, 11:30 am in Julian 108!
13 days ago
RT @DePauwPolice: March 15th through the 21st is Severe Weather Preparedness Week! Practice and plan for severe weather this week.
13 days ago
Happy Founders Day to Phi Delta Theta, Delta Gamma, and Omega Phi Beta! @depauwDG @phidelt @OPB_Psi
14 days ago
RT @DePauwLife: Happy Pi Day! Grab a pretzel from the Der Pretzel Wagen, tonight (3.14) at 11:30 PM! http://t.co/sTSDxAsOXg
15 days ago
A big thank you to everyone who stopped by to celebrate Founding Day with us!
18 days ago
RT @DePauwIT: Spam alert with a subject of "DOCUMENT". Do not click on attachment. Do not reply. #AlertIT http://t.co/Njn07PTghh
18 days ago
Come to the PCCM Lobby tonight at 8:30 to hang out with these lovely ladies at our Founding Day Reception! #whypsixi http://t.co/qTmfygiUgt
18 days ago
45 years ago
45 years ago
45 years ago
45 years ago
45 years ago
45 years ago
45 years ago
45 years ago
45 years ago