Psi Lambda Xi
DePauw's Local Sorority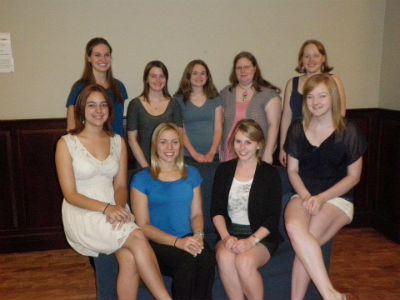 Founded on March 11, 2007, for the purposes of promoting positive self-concept in each other, the university, and the community through the bonds of sisterhood. We have no national affiliation and exist solely on this campus. We interact with the school and community by participating in philanthropic events, including hosting our own supply drive for local children. Other sorority activities include movie nights, informal parties, dinners, and formal dances. Funding for these events is provided by membership dues. Also, we are a non-residential sorority, meaning that we are not required to all live together, though some of our members do out of choice.
@psilambdaxi on Twitter
---
RT @codetealDPU: Less than 3 hours until LACI GREEN! Come listen to "Taking Down Rape Culture" at 7:30 in Meharry Hall. We are so excited to have her!
9 days ago
RT @KenOwenDePauw: DePauw Theatre's Production of 'Antigone' Opens Thursday http://t.co/73821naiRb @DePauwU
11 days ago
It's Volunteer Appreciation Week! "Nobody can do everything, but everyone can do something." #VolunteerWeek
12 days ago
RT @codetealDPU: Today's events: Tackling Sexual Assault at 11:30am. Men's event in the UB Ballroom, women's event in the Julian Auditorium.
12 days ago
RT @DePauwIT: Spam alert with a subject of "SCHEDULED GENERAL MEETING". #AlertIT http://t.co/9Sav4rijAl
15 days ago
RT @DPU_StudentGov: Sophomores, it's time to celebrate your class! Stop by Bowman Park from 1:00 - 2:00 PM for free Chick-fil-A and jams! http://t.co/hRw9pHbVGm
15 days ago
45 years ago
45 years ago
45 years ago
45 years ago
45 years ago
45 years ago
45 years ago
45 years ago
45 years ago