Diversity on Campus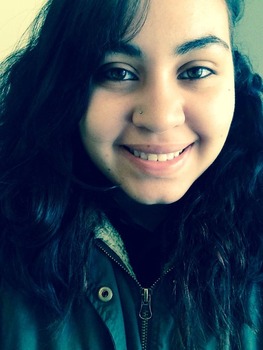 A Student Perspective of Diversity on Campus
Name: Ashley Sanchez
Major: Women's Studies
Class Standing: Rising Senior
Hometown: Bronx, New York
Fondest childhood memory: My fondest childhood memories come from playing in my back yard when I use to live in Queens, NY. I remember making mud pies, playing with insects, and looking at the plants. I was so interested when I was younger at the world that was developing in my backyard. I remember my mother cut down a branch of a tree and there was sap coming out of the part that she cut off, and I remember being mad at my mother because I believed the tree was crying, I thought the sap were tears. That yard was where I learned compassion for all living things. It was a great place.

Favorite book: I always say my favorite book is a young adult novel called "You don't know me" By David Klass, but I have a long list of books I call my favorite.

Favorite ice cream flavor: Vanilla Bean
Campus Involvement: I am an Intern for Russell J. Compton Center for Peace and Justice, I am also Alumni Chair for Committee for Latin@ concerns.

What do you appreciate about the diversity on campus? Even though the diversity here isn't very big, I know I can find someone with the same interest as me but with different experiences, and I know I can also find people with similar experiences as me but with different interest, and learn from each group of people. They are here; just sometimes you have to try really hard to find them. And even when you can't find them, there are people here willing to direct you to the right way, so you never truly feel alone.

How have you been an ally to others? Some ways that I've been an ally to other is standing up whenever I see injustice or insensitivity happening on campus. I have always left myself open to be a resource of support for those around me that need it, and have always made the space around me be safe for anyone. I check the privileges I have as much as possible, and make sure that I am not acting or using oppressive language.

How have you grown during your time at DePauw? I've grown so much since I've been here. I've always been very soft spoken and shy. I still am, but DePauw has really given me the confidence and skills to assert myself in times that are needed, and I've learned to become a leader. DePauw has given me the space to be who I am, and to be a helping hand for others. I wouldn't be who I am today if it wasn't for the education I've gained in and outside of the classroom. I've really grown to be comfortable in my own skin, and to just be myself, even if it makes those around me uncomfortable.

What would you tell future DePauw students? I would tell them being at any college/university is hard. And it's going to take a while for you to find your footing in any new space, but know that when you do it will be amazing. Find people at DePauw that will make you happy, and keep you happy. Never surround yourself with those that will keep you down, because at the end in order to succeed you must stay happy and positive. You have four year here, spend them fearlessly and with no regrets. And be open to new ideas and experiences. Don't be the thing that holds you back from reaching your full potential.