Meet the Staff
Vince Greer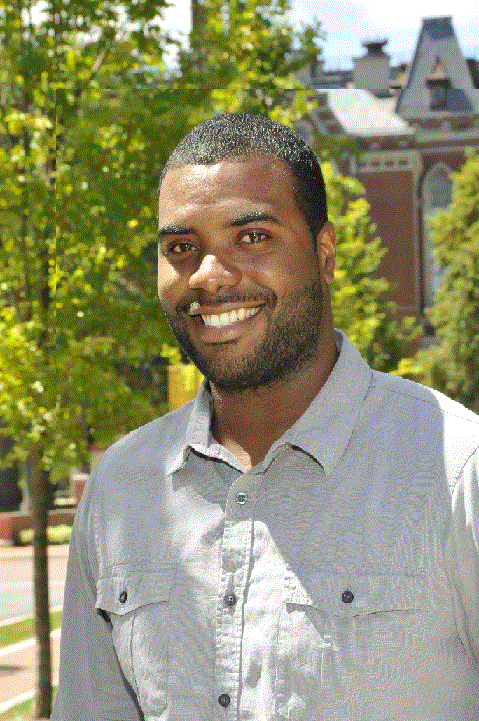 Director of Multicultural Student Services
Vince attended DePauw University and earned a Bachelor's of Art in English Writing in 2006. He then received a Master's degree in Higher Education Administration from Northeastern University in 2011. Vince enjoys working in Intercultural Life because it allows him to build intentional connections with students from all backgrounds, while helping to foster their holistic growth. When Vince is not working he is an avid sports fan, who plays and coaches Basketball and also DJs.
Aliya Beavers
Aliza Frame

Director of International Student Services
Aliza attended DePauw University and received a degree in Conflict Studies and Spanish in 2005. Aliza enjoys working in Intercultural Life because she loves working with students from around the world and assisting them as they adjust to life in the United States, Indiana and at DePauw. In Aliza's spare time she loves to explore new places, people, music, films and culture. She loves experimenting in the kitchen with new recipes, playing outdoors with her daughter or enjoying the interesting events at DePauw.
Majorie (Lesley) Lytle
Office Manager of Spiritual Life
Lesley hails from the United Kingdom. She enjoys working in Intercultural Life because of the diverse student populations that she interacts with on a daily basis. In her spare time she enjoys keeping up with the latest technology, tennis and researching the Tudor area from 1485-1603.
Vivie Nguyen


Director of Cultural Resource Centers; Coordinator of LGBT Services

Vivie Nguyen completed her B.A. in Cognitive Sciences and minor in Biological Sciences at the University of California, Irvine and M.A. in Counseling Psychology at the University of California, Santa Barbara. Vivie's deep commitment to serving minority and marginalized populations was propelled by extensive exposure to the need for multicultural sensitivity, intercultural dialogue, and social justice that a number of colorful friendships and inspiring personal encounters instilled within her.

Valerie Rudolph

Coordinator of the Compton Center for Peace and Justice
Valerie studied Political Science and Biology at the University of Louisville and gained valuable activism experience through her work with Kentucky Water Watch, a watchdog group committed to protecting watersheds. Valerie loves working with students passionate about social justice issues and, hopefully, empowers them with the tools they need to make positive social change on campus and beyond. In Valerie's spare time, she enjoys camping and hiking, going to music festivals, playing guitar, and above all else, being with her daughter and partner.
Sarah Ryan

Director of the Women's Center
Sarah attended the State University of New York Brockport and received degree in English Literature in 1995. She then attended Kansas State University and received a masters degree in College Student Development in 1998. Sarah enjoys working in Intercultural Life because she has great colleagues who care deeply about all of the students, particularly those students from historically marginalized and underrepresented groups. Both students and staff who are part of Intercultural Life are creative, collaborative, and inspiriting to work with. In Sarah's spare time she likes to check out live music and take walks at the DePauw Nature Park.
Kate Smanik

Assistant Dean of Students for Spirituality, Service, and Social Justice
Kate attended the College of Wooster and received a degree in Women's Studies in 2001. She then attended Yale University and received a masters degree in Divinity in 2005. Kate enjoys working in Intercultural Life because she believes it is critical to equip students to work in a diverse context and enjoys having a direct hand in making sure that students graduate with the skills they need to be strong leaders and advocates for equality. In Kate's spare time she enjoys swimming (you can usually find her in the pool during her lunch break) and knitting while she watches really bad television. In the winter time you can assume she is wearing a pair of hand knit socks.