Opportunities for first-year students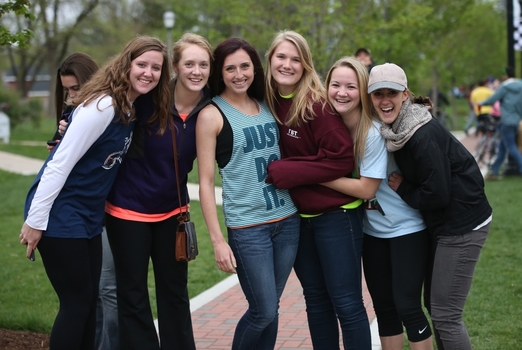 Please explore these special opportunities for first-year students. This page will be routinely updated.
Eco-Reps

Interested in sustainability? Want to help on the campus farm?
DePauw's Eco-Reps
program is open to first-year students who want to develop leadership skills and manage sustainability projects like
Community Bikes,
recycling,
the
campus farm,
and more. Contact Anthony Baratta at anthonybaratta@depauw.edu in the Office of Sustainability if you are interested.

LEAP
DePauw is pleased to introduce LEAP (Learning Through Experiential Applications). This new, exciting program offers you rewards for participating in things that will help you prepare for life after DePauw. Each term, you will have the opportunity to participate in a variety of activities. Each activity will earn reward points. Once you have reached the point level for your class year, you will earn rewards and an entry in an end of year drawing for prizes. These activities are designed to help you become better prepared for either a job or graduate school once you leave DePauw. Click here for more information.
Service Plunge

Sign up for the First-Year Service Plunge, an annual opportunity for first-year students to join their classmates and the Greencastle community in a day of service and learning. Learn more
here
.
Sustainable DePauw
Support DePauw's sustainability commitment! Here are a few easy ways that you can contribute right away.
1. RECYCLE (ALL PLASTICS, GLASS, PAPER, ALUMINUM, NO STYROFOAM).
2. COMPOST YOUR FOOD AT THE HUB.
3. LEAVE YOUR CAR AT HOME, RENT A COMMUNITY BIKE, OR USE WE-CAR!
4. EXPLORE THE depauw university NATURE PARK.
5. DONATE UNWANTED ITEMS TO GOODWILL IN GREENCASTLE.
6. VOLUNTEER AT THE CAMPUS FARM.
7. TAKE A SUSTAINABILITY-RELATED CLASS.
8. DON'T WASTE ENERGY- TURN THE LIGHTS OUT, TURN THE WATER OFF.
9. COMBINE LOADS OF LAUNDRY TO SAVE ENERGY .
10. GET INVOLVED! JOIN DEPAUW ENVIRONMENTAL CLUB, AND/OR BECOME AN ECO-REP!