Interfaith Internship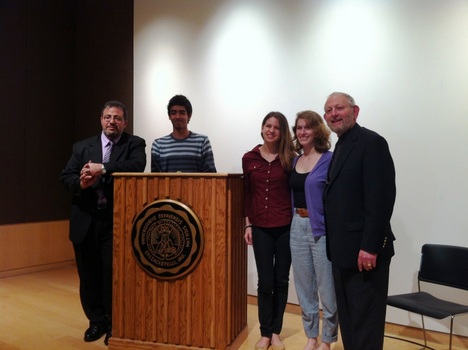 Interfaith Interns are leaders in our campus community. These students are trained to provide the campus with opportunities for Interfaith dialogue, service and experiential learning. In addition interns provide the campus with opportunities to learn about individual religious traditions through Religious Literacy campaigns, and provide for the well being of the campus by acting as Peer Chaplains.
The best candidates for this internship are energetic, creative, dedicated DePauw students who are interested in promoting positive interfaith interactions on our campus. As an Intern you represent your faith tradition/belief system in our group, and share your experience and knowledge with our campus community. You are not expected to know everything about your tradition, but you are expected to be willing to share what you do know and willing to learn about the things you don't know yet.
The Interfaith Internship team consists of 6-8 Interns (one per faith tradition), 2 Lead Interns (these are students who completed the program the previous year and have agreed to stay on for an additional year to provide support to the new team of interns) and the Director of Spiritual Life.
Here's what the Interfaith Interns have to say about their experiences:
Alexander Alfonso ('15)
Major: Religious Studies and Anthropology
"I became an Intern to gain experience in generating productive interfaith dialogues that generate a better understanding of faith traditions on both sides."
Caitlyn Purvis ('14)
Major: Psychology
"I became an Intern to learn more about religions that are not my own, and to help promote interfaith dialogues that will hopefully end any religious stereotypes."
Cora Oo ('14)
Major: Biology and Psychology minor
"I believe that being an Intern at the Center for Spiritual Life will help me a lot with educating people about Buddhism as well as with educating myself about different religions."
Sandra Bertin ('15)
Major: Middle Eastern and Islamic Studies, Religious Studies
"I became an Interfath Intern because I enjoy learning about other religions and wanted to be more involved in the religious programming on campus."
Sehrish Khan ('13)
Major: Political Science and Anthropology minor
"I wanted to educate DePauw students about Islam and also organize events that lead to deeper conversations about it. Muslim students are few on campus, thus I felt a personal responsibility to be more involved."
Pranay Jhunjhunwalla ('14)
Major: Economics with Business Administration minor
"This program is a great way to ensure that you take part in leadership positions, it helps you network and most of all, it helps you keep your faith alive, especially when it is a minority on campus."