Events
"Happiness is when what you think, what you say, and what you do are in harmony" Mahatma Gandhi
In addition to our regularly scheduled events the Center for Spiritual Life and the Interfaith Interns host a variety of lectures and events.
Faith Week: Spring 2014

All Week Long: Faith on Campus Photo Exhibit – UB Lobby
Students Jordan Lienhoop '16 and Nathan Dubow '13 have photographed spiritual life at DePauw for the past two years. This exhibit celebrates the diversity of our community and highlights the work of our student photographers.
Gobin InterFaith Talks (GIFTS)
Tuesday, March 4
8 p.m.
Center for Spiritual Life, Compton Reading Room

We will meet in the Center for Spiritual Life with guest speaker Father John Rumple who will engage us in conversation as he tells his story of Faith and Sexuality. Contact Tannis Monday with questions. All students are welcome!

Center for Spiritual Life Compton Reading Room (take a right when you enter the building and the reading room is the first room on your right)
Real Talk: The Role of Women in Religion
Tuesday, March 4
Center for Spiritual Life
4 -5 p.m.

This week's Real Talk is hosted by the Interfaith Interns. Beginning with a fishbowl discussion the Interns will share their personal views on the role of Women in Religion and then open the discussion to the group.
Faculty and Staff Bible Study
The Epistle of James provides a glimpse into economic and liberation thought in the first century along with words of wisdom and faithfulness that are still relevant for the modern reader. Please consider joining a core group of women and men staff and faculty who will study and discuss the Book of James from the New Testament from 11:40 a.m.-12:30 p.m. at Gobin United Methodist Church. People from all traditions and denominations are welcome.

Tuesday, March 4
Tuesday, March 18
Tuesday, April 1
Tuesday, April 15
Tuesday, April 29
Tuesday, May 6

These dates are subject to change.

Please contact Matt Cummings or Matt Mascioli if you have any questions.
Inter-Fraternity Bible Study at Beta Theta Pi
Tuesday, March 4
9 p.m.
Beta Theta Pi

All fraternity men are welcome to join in this bible study led by Zach Crenshaw '14. This weekly event usually rotates between Fraternity hosts, this week it will be held at Beta Theta Pi.
Meet a Mormon Missionary
Wednesday, March 5
4 p.m.
Center for Spiritual Life

Have you ever wondered why another young adult would want to spend 18 months or more on a mission to serve their church? Here is your chance to find out! Join us for a lively conversation with Elder West, Elder Melchior, Sister Herzog and Sister Tibbitts as they share their missionary journey with us.
Food for Thought featuring Brett O'Bannon
Wednesday, March 5
5 - 6 p.m.
Center for Spiritual Life

Listen to Professor Brett O'Bannon (Leonard E. and Mary B. Howell Professor of Political Science, Associate Professor of Political Science, Coordinator of the Conflict Studies Program) explore the question "What matters most to me?" Bring your appetite, free pizza.

In case you have never been to a Food for Thought before, or you have forgotten from last year, let us briefly discuss the event. Every Wednesday at 5 p.m. in the Center for Spiritual Life, students gather to have a free meal, followed by a speaker, faculty or staff, reporting what matters most to them and why. We encourage all faculty, staff, and members of the Greencastle community to join us.
We hope to see you there.
Intervarsity
Wednesday, March 5
8 p.m.
Union Building, Ballroom

Connect with Christ, with community...music, people, fun, Jesus. Intervarsity Christian Fellowship, authentic community; Christ-Centered and outwardly forcused. Contact Kaleb or Alex for more information.
Seeking Justice: Compton Center Interns Share Their Motivation for Change
Thursday, March 6
4 p.m.
Compton Center 500 E. Seminary, Lobby

Join Compton Center Interns for a conversation about their values, motivations and faith. Olivia Rees, Kainat Akmal, Anna Butz, and Clark Edwards will host a conversation about what motivates them as advocates for peace and justice and how others can join them in this work.
Join Silk Artist Nancy Katz & Stained Glass Artist Mark Liebowitz
Thursday, March 6
6 -7 p.m.
Center for Spiritual Life

Join Silk Artist Nancy Katz and her husband, Stained Glass Artist Mark Liebowitz, for dinner and a conversation about the religious motifs in their work. This event is open to all.
Nancy Katz Silk Painting (Banner Making Workshop)
Thursday, March 6
7:30 - 9:30 p.m.
Union Building, Ballroom

Intercultural Life invites you to join in painting our new banner designed by Silk Artist, Nancy Katz. This event is a perfect way to unwind and make a lasting contribution to a piece of on campus art. Nancy's silk designs provide an opportunity to paint without worry. Follow Nancy's simple instructions and you cannot make a mistake. The finished Silk banner will hang in the lobby of 500 E. Seminary St. and will represent the incredible and important diversity on our campus.
Shabbat "Learner's Service"
Friday, March 7
6:30 p.m. Service
7:30 p.m. Dinner
Center for Spiritual Life
Ever wondered what you might experience at Shabbat Service? Hillel, our Jewish Student Association, would love to share their worship experiences with you. Come join DePauw Hillel for a Shabbat service experience where we will guide you through our worship. This will be a great opportunity to learn about the Jewish faith and some of our Shabbat traditions. Bring your singing voices. Join the DePauw Hillel Jewish community for our Shabbat services and dinner at the Center for Spiritual Life.
RSVP to Lance daSilva (Jewish Life Coordinator). We just want to make sure we have enough food for everyone
Fall 2013 Events
Monday, August 26, Spiritual Life Orientation Brunch

Location: East College Lawn (UB Ballroom should it rain)
Time: 9:00 am

Get to know the different spiritual groups on campus and in the community in an informal setting. Brunch will be served, and students will have the opportunity to walk around to different tables with information about the spiritual offerings available at DePauw and in the community.
Tuesday, September 24, Sand Mandala Opening Ceremony
Location: HUB
Time: 4:00 pm
The monks of the Labrang Tashi Kyil Monestary will be creating a Sand Mandala in the HUB from September 24 to September 28. This is a work of art created by painstakingly arranging colored sand into intricate patterns.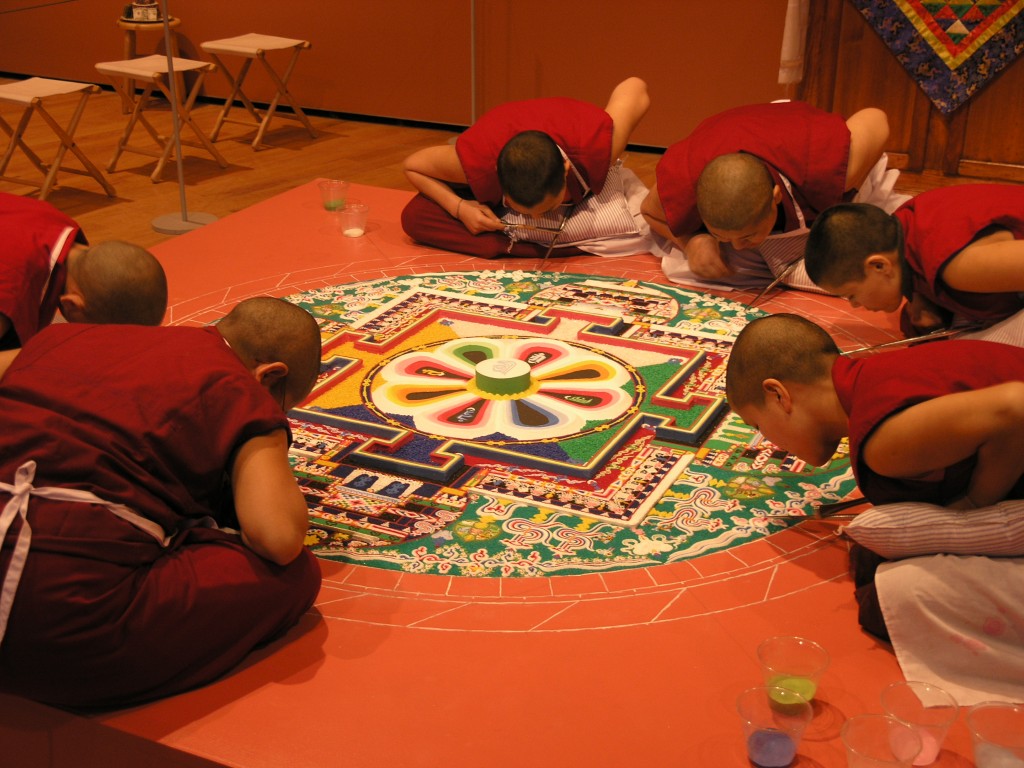 Saturday, September 28, Sand Mandala Closing Ceremony
Location: HUB & Nature Park
Time: 4:00 pm