Crayfish prevalence and water quality in Big Walnut Creek
Jason Hutchison and Scott Kreuzman
BIO 342, fall 2005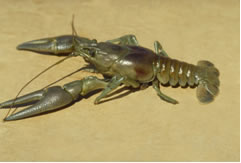 Does water quality affect size and abundance of crayfish in Indiana streams? Are higher human populations within a watershed an appropriate predictor of lower water quality (more pollutants)?
Crayfish are a good indicator of water quality in streams. Changes in pH and dissolved oxygen content are stressful to crayfish inhabiting fresh water ecosystems. High levels of dissolved oxygen may be stressful because to crayfish because of physiological effects or because higher oxygen levels allow invasion of plant species such as waterweed. A lower pH (more acidic conditions) could stunt growth of crayfish, with lasting effects even after water pH returns to normal levels.
We predicted that higher levels of human activity within a watershed would have a negative effect on water quality and that crayfish would be smaller and less abundant in areas with lower water quality. We measured stream temperatures and collected water samples to test for pH, dissolved oxygen content, phosphate levels, and nitrate levels.
We found that our water samples were slightly more acidic, with lower dissolved oxygen content, slightly lower nitrates, and a trace of phosphates compared to the previous study. More water samples should be collected next time this monitoring is conducted. We found no crayfish in the stream, apparently because crayfish cannot be collected during winter months.