Crickets in a meadow: does mowing improve habitat?
Jackie Betsch, Jake Donlon, Bryan Helm, and Mark Loomis
Class project for Ecology, BIO 342, fall 2005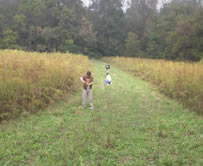 Last summer, a groundskeeper at DePauw inadvertently mowed a path through the middle of a meadow at the Nature Park. What was the result? Tons of insects, especially crickets, were more visible in the newly mown trail than in the tall grasses of the unmown meadow. Why? Were insects responding to warmer temperatures in the mown trail? Were crickets attracted to the warmer environment of the trail?
To learn more about this situation, we placed a series of pitfall traps in the meadow to measure the abundance of crickets. Half of the traps were placed in the mown trail and the other half of the traps were placed in the tall grasses of the unmown meadow. We recorded temperature, measured plant height and sampled litter at each site. We collected contents of each pitfall trap each week for three weeks. Invertebrates were counted and organized into groups (crickets, spiders, etc.).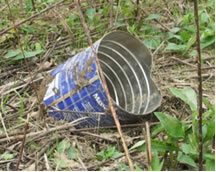 Significantly higher numbers of crickets were caught in traps placed in the mown trail than in the undisturbed meadow. Daily temperatures were generally warmer in the mown trail than in the surrounding meadow. There was a direct correlation between higher temperatures and higher numbers of crickets.
Our study was disrupted in part by disturbance of our traps. Flooding in the meadow pushed the traps above ground level so they were no longer effective! In the future, it would be appropriate to collect data over a longer time period at more plots and along more mown paths.