Patterns and processes of recovery in and around an Indiana limestone quarry
Vanessa Fox and Dana Dudle
Biology Department, DePauw University
in collaboration with Bryan Helm, David Pope, and Aaron Randolph, Science Research Fellows
Click here to download:
Vanessa and Dana's poster (powerpoint; 3.7 MB)
Vanessa and Dana's report (microsoft word; 1.6 MB)
Abstract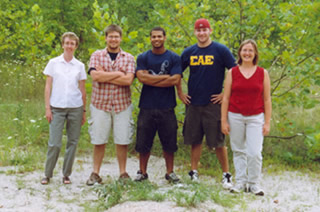 In October 2003, DePauw University acquired a 481-acre (192-hectare) nature park, intended for the various purposes of habitat conservation, education, and recreation. The land comprises several habitats, including deciduous forest, old fields, wetlands, a river, and several freshwater ponds, but the central feature of the land is a large limestone quarry that was abandoned approximately 30 years ago. Each of these habitats has been significantly affected by human activity, through logging, farming, fishing and mining, and some areas are highly disturbed.
Some central questions of restoration ecology – Are the ecosystems recovering on their own? Or is human intervention appropriate and/or necessary to promote recovery? If intervention is necessary, what kind? – form the core of our discussions about how DePauw should use and manage this resource.
Here, we present some baseline data describing several projects begun in the quarry and surrounding habitats, as well as at the DePauw Arboretum, during summer 2004. We established several permanent grids marking study plots throughout the park and Arboretum: in three forested areas, several meadows, and in the quarry basin.
Within those plots, we began investigating the present state of breeding bird and forest tree communities, the diversity of the surface-active forest invertebrate community, and the population biology of two native plant species that are found across multiple successional habitats in the park: Apocynum cannabinum (hemp dogbane), and Platanus occidentalis (sycamore tree).