"Survivor"
Kala Pattar, Kathy Frees, Suzanne Donoval
Class project for Conservation Biology, BIO 345, spring 2006
Conservation education is becoming increasingly important as the environment is in growing danger. As technology advances and humans become more concerned with convenience, conservation is getting moved to the back burner. It is important to encourage positive attitudes towards conservation issues, and one way to achieve this is through educating children about the environment and the consequences of our actions. We decided to conduct a field trip in which 6th grade students would have the opportunity to spend the day in the DePauw University Nature Park learning about environmental issues. This field trip is aimed at teaching the students about the DePauw University Nature Park and incorporating current conservation issues into the lessons.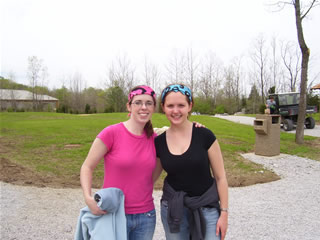 We also employed simulation games and other interactive activities to promote retention and positive attitudes toward the lessons. After the field trip, the students displayed increased test scores (pre- and post-tests were administered) as well as demonstrated positive attitudes towards conservation biology on an attitude survey.
Click here to download:
Kala Pattar's report (0.1 MB)
Kala Pattar's presentation (9.8 MB)