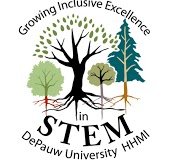 HOWARD HUGHES MEDICAL INSTITUTE (HHMI) GRANT
DePauw is one of 57 institutions nationally and the only school in Indiana to be awarded a$1,000,000 Inclusive Excellence grant from the Howard Hughes Medical Institute. These funds will be used to foster welcoming and inclusive environments in science, technology, engineering, and math for students from minoritized groups, by identifying and removing systemic barriers and creating more equitable structures. DePauw's project is pursuing this end by providing student STEM Guides in introductory science and math courses, offering resources to faculty regarding more inclusive teaching practices, supporting departmental projects to examine and change pedagogy and curriculum, offering community building grants, and financing mini-grants for traditionally underserved students to attend professional conferences and workshops.
POWER, PRIVILEGE AND DIVERSITY AND GLOBAL LEARNING REQUIREMENTS
To build a foundation for a liberal arts education at DePauw University, students complete two course credits in each of three distinct areas of study (Arts and Humanities, Science and Mathematics, and Social Sciences) and attain or demonstrate second-semester ability in a language other than English. Students entering DePauw in the fall of 2016 also complete one course credit that helps them explore topics related to Privilege, Power and Diversity. These students also complete a Global Learning requirement.
Each of the six course credits used to complete the Arts and Humanities, Science and Mathematics, and Social Science distribution requirements must be in a different academic department or program to ensure that students explore a broad spectrum of the liberal arts and are introduced to the ways these areas study and describe the world.
Privilege, Power and Diversity courses have, as a major component, the analysis of the interplay of power and privilege in human interactions. Such courses will frequently focus on the experience of non-dominant members of political or social groups. They might also emphasize the dynamics of inequality from a more theoretical perspective.
Global Learning is completed by earning one course credit through the study of a culture or cultures distinct from US culture. This credit may be earned in DePauw courses focusing on the politics, society, religion, history, or arts of a foreign culture or through a DePauw-approved study-abroad experience. International students fulfill this requirement through their study at DePauw.
FIRST-YEAR STUDENT EDUCATION
First-year students participate in programming that will enable them to develop an appreciation for the rich diversity of our community, develop skills that will enable them to positively contribute to developing an inclusive community and actively engage in creating a culture of care for one another and the DePauw community as a whole. Prior to students even arriving on campus, we introduce them to the values of our community and expectations for living in our community. During First-Year Student Orientation and throughout the year, students get to know their peers on a deeper level, learn to dialogue with one another across differences and explore their own identities.
As we continue our efforts to be a great place to learn, live and work, DePauw is committed to the growth and development of its employees. Lifelong growth and development are critical to a commitment to excellence and support of the institution's mission.
The GOLD Learning Academy provides learning opportunities that meet the training and performance needs and interests of our campus community through every stage of a career.
DIVERSITY AND INCLUSION LIBRARY GUIDES
On campus resources through the Kathryn F. Hubbard Center for Student Engagement for information about items such as scholarships, internship information and off-campus study for DACA and undocumented students, students with disabilities, domestic students of color, international students, and LGBTQIA+ students.