Presidential Ambassadors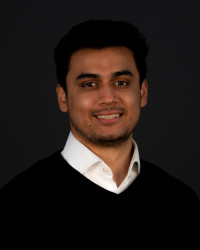 Syed "Hamza" Adnan is an economics major and a philosophy minor from Lahore, Pakistan. Currently, he's the co-president of the DePauw Investment Group. Throughout his four years, Hamza has been a member of the Sigma Chi Fraternity and has served as the president of the Muslim Students Association, while also serving as an intern for both the Interfaith Council and the Prindle Institute for Ethics. He is a Management Fellow and is involved with the Investment Banking Workshop on campus. Outside of school, Hamza has worked with New Stack Ventures, a venture Capital firm in Chicago, and has helped establish a special purpose acquisition company, Founders And Capital acquisition corp (SPAC.) After graduation, he will be joining JP Morgan Chase & Co as an analyst in Chicago.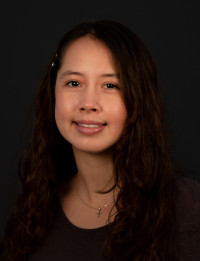 Emily Balding is an economics major on the pre-medical track with minors in Spanish and ​​chemistry. Emily was born in Peru, but grew up mainly in Brookfield, Wisconsin. As a Rector Scholar and Management Fellow, Emily has had the opportunity to serve in multiple leadership positions on campus including ​c​o-​p​resident of Women in Economics and Business, ​c​o-​p​resident of Tae Kwon Do Club, and ​d​irector of ​m​arketing for Grounded Co., a non-profit student-run coffee shop in Greencastle. Emily has also enjoyed being a part of the Women's ​​Golf ​T​eam, Alpha Chi Omega Fraternity, the Marketing Group @ DePauw, and Civic Fellows. Fueled by her passion for marketing, Emily has had multiple internship experiences as a brand marketing intern at One Click Ventures, ​as ​a marketing intern at Eli Lilly and Company, and a commercial education intern at Roche Diagnostics. Emily is grateful for the opportunities she has had to study abroad in China, for a three-week Winter Term trip, and most recently at Oxford University for the 2021 Michaelmas Term. Above all, Emily has sought to grow spiritually and give back to others through various Bible studies and Christian groups on campus, particularly Wyldlife - a Christian ministry focused on building relationships with middle school students - and Young Life College. Emily was accepted to Wake Forest School of Medicine and is very thankful for the many people and miracles that have led to this opportunity. She looks forward to continuing her medical education and pursuing her passion for caring for people.
Callaway Bird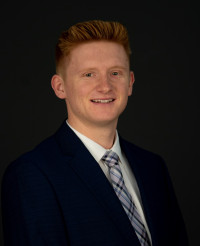 is an economics major and English writing minor who was born and raised in Sturgis, Michigan and attended Culver Military Academy. As a member of both the Cross Country and Track & Field Varsity teams at DePauw, he has served as the captain for both teams and has helped lead the cross country team to conference titles every season. In addition, he has won multiple conference titles in track and was also named an Academic All-American. Callaway also contributes to the campus community by serving as a first-year student mentor and member of the WGRE college radio station. As a Management Fellow, he was hired to work abroad with Cummins Inc. in India in 2020 until the pandemic forced him to work from home in a finance role. This past summer, Callaway worked in a commercial banking role for BMO Harris Bank in Chicago. As a senior, he has helped the Management Fellows program by mentoring first-year students, participating in student panels, and interviewing prospective students. Upon graduation, he hopes to pursue a consulting job in Denver.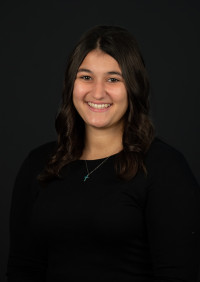 Christina Bourantas, from Wilmington, Delaware, is a double major in physics and kinesiology. As a member of the Varsity Women's Field Hockey team, Christina was elected the team captain during her senior year and also serves as both a team representative for the Student-Athlete Advisory Committee (SAAC) and has been the co-president for two years. She was also elected to serve as the vice president of the North Coast Athletic Conference SAAC Executive Board. An Athletics Department intern, she loves working athletic events and advocating for student-athletes. Christina is very involved in DePauw Student Government and currently holds the position of deputy chief of staff. A member of the Indiana Epsilon chapter of Pi Beta Phi she also is the president of the The Panhellenic Association. She is a co-founder of Orthodox Christian Fellowship and the vice president of the Society of Physics Students. Christina was inducted into Chi Alpha Sigma, Order of Omega, and Sigma Pi Sigma Honor academic societies. A recipient of the Randal L. Wilson Union Board Award, Christina enjoys her role in student leadership and values volunteering and serving in the Greencastle community. She reads weekly to students at Ridpath Elementary School and teaches other elementary-aged students the importance of kindness and compassion through athletics. Christina is a STEM Guide and tutor for introductory physics courses and is a member of DePauw's Science Research Fellows. Passionate about STEM research on and off campus, she has conducted research in astrophysics and with the Department of Kinesiology on the Varsity Swim and Dive teams. For two summers, she has done research at the Nemours Children's Hospital in Wilmington in the Gait and Motion Analysis Laboratory and her interest in biomechanics and clinical research has grown as a result. After graduation, Christina hopes to pursue a PhD in kinesiology and ultimately, teach and mentor students at the university level while conducting research.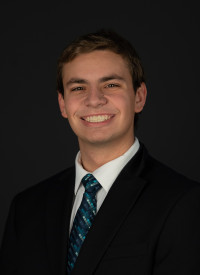 Alex Bowling is a history major, with an anthropology and geology minor, from West Lafayette, Indiana. At DePauw, Alex participated for four years on the Men's Swimming and Diving team, and has held multiple leadership positions in the Sigma Nu Fraternity, including chapter president. After graduation, he plans to continue working for Community Ventures in Living, a social service organization that supports developmentally disabled people and their families, as a service provider for Autistic adults like himself.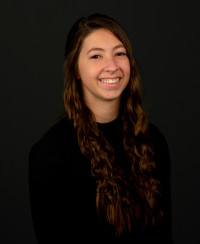 Hannah Buchanan of Rockville, Indiana, is a studio art major with minors in geology and art history. A member of the Phi Beta Kappa National Honor Society and the Kappa Pi Art Honor Society, Hannah was a Resident Assistant for first-year students during her junior year and for sophomore communities during her senior year. The co-founder and treasurer of DePauw's Native American and Indigenous Peoples Association since her freshman year, she has served in leadership roles at several powwows in Indiana. She has also been involved in Relay for Life, Non-Food Pantry, and the Tiger Pep Band, and she is currently a percussionist in the DePauw Symphonic Band. Hannah also enjoys working as an intern at the Center for Spiritual Life, where she helps with Curry Friday and creates artwork. She is grateful for the many opportunities DePauw has provided, and one of her favorite experiences was studying indigenous micaceous clay pottery at Ghost Ranch, New Mexico, during her sophomore year Winter Term. During her college career, Hannah has participated in various art competitions and has won art awards at DePauw's Annual Juried Student Art Show, the National Society of Arts and Letters (Bloomington chapter), the Greencastle Arts Council "Locality" Exhibition and the Greencastle Arts Council "Living Local" Exhibition. After graduation, Hannah would like to strengthen her art knowledge and skill by earning a master's degree in Painting and Drawing. She also plans to apply to art residences and hopes to get involved with National Park Service art programs.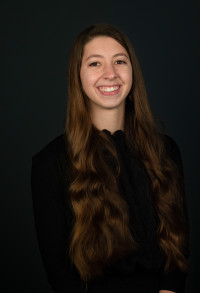 Holly Buchanan, a Malpas Scholar, is from Rockville, Indiana and is a studio art and art history double major with a museum studies minor. She has been involved in several areas on campus, which have offered many fulfilling experiences and opportunities for growth. Holly, a member of the Myaamia Nation of Indiana, currently serves as president and a co-founder of the Native American and Indigenous Peoples Association (NAIPA) at DePauw and has held a head staff position at some area powwows. For winter term 2020, Holly had the opportunity to travel to Ghost Ranch, New Mexico to study and create traditional clay micaceous pottery. Using what she learned at DePauw, she was accepted into a competitive professional development program within the cultural heritage sector through the Association for Research Institutes in Art History (ARIAH) in the fall 2020. Through the program, the Metropolitan Museum of Art, The Clark Institute, the Canadian Centre for Architecture, and the Yale Center for British Art guided skill-building in curatorial practice, museum exhibitions, collections management, and art conservation. One of her projects from the internship appeared in the 2022 Journal of The Clark Institute. Through an independent research grant from the DePauw Art Department, Holly has the opportunity to travel to New York City in 2022 to study Indigenous modernist painters at the Smithsonian National Museum of the American Indian. Her own artwork has been shown in the Putnam County art show, the DePauw Juried Student Exhibition, and the National Society of Arts and Letters art competition; additionally, she is a member of Kappa Pi Art Honor Society. She has previously volunteered with the local Non-Food Pantry and Relay for Life and is also involved in music at DePauw as a member of the symphonic band, trombone choir, and Tiger Pep Band. After DePauw, Holly plans on pursuing a graduate degree in art history with hopes of becoming a curator and/or professor.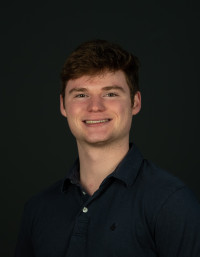 Thomas Curdt is a music and English literature major from Saint Louis, Missouri. This year, Thomas helped plan and lead the Class of 2025 orientation as a Peer Mentor, served as an editor for The DePauw newspaper and held the presidency of the volleyball club. As an Honor Scholar, Thomas has spent his senior year highly caffeinated, researching coffee, music, and taste. Thomas has also worked as an Admissions Ambassador, providing campus tours and speaking at panels, a Greendot intern, raising awareness against power-based personal violence, and is an active member of Delta Upsilon Fraternity. After DePauw, Thomas hopes to teach secondary education in both English and music.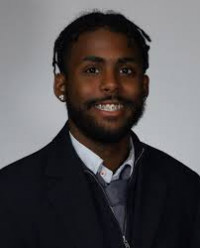 Tsian "Tsi" DeFour is a film studies major from Brooklyn, New York and a Posse Scholar. The work he does at DePauw and the positions he holds complement his goals to build community and produce meaningful representation by empowering and creating for his peers. A four-year member of the Varsity Football Team and member of Phi Gamma Delta Fraternity, Tsi served as the chairman of the DePauw Student Government Allocations Committee overseeing the budgeting and leading the awarding of $450,000 per semester for student programming to recognized organizations. He is a production intern for an international company, 1stAveMachine, and a creative development intern for Key Rat, Inc. Television and Film. Tsi was a production assistant for 25 episodes of WONDERAMA, a children's television series, and a film fellow at the Tribeca Film Institute. His passions for equity, inclusion, aesthetics, and creation are the values he brings to his art and endeavors. They have helped him garner practical skills and training as he pursues work as a producer and film artist after graduating.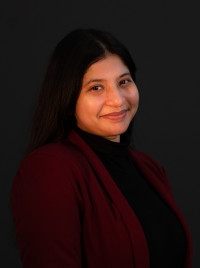 Amreha Masooma Huq, from Lahore, Pakistan is a political science major and women and gender studies minor. She serves as a Women's Center intern and was in a joint research program with a professor over the summer. Her passion for international relations was inspired by the injustices she witnessed in her community, both politically and socially. Drawn to advocacy and more effective policy-making, Amreha interned in Washington D.C. at a nonprofit as an Immigration and Refugee Policy intern where she enhanced her emotional and social intelligence. At DePauw, she serves in the Office of Admissions as an ambassador, a community service coordinator for the Hartman House, writes for The DePauw and is a First-Year Mentor. She was a Peace and Compton Justice intern during her sophomore year and organized talks for the Peace Camp Series. A strong proponent for diversity and inclusion, Amreha has strongly shaped the experiences of incoming international students on this campus. She believes her fellow international students needed better representation so she became a first-year senator on the DePauw Student Government and she helped to establish a Food Committee. A long time leader for the International Student Ambassador Program, Amreha planned the new student orientation focused on the transition to the culture of a U.S. university. Amreha has also represented DePauw at several competitions, including the Sanger Leadership Challenge, held at the University of Michigan Ross School of Business; she was the only competitor, out of 320 undergraduates from DePauw and the University of Michigan, recognized as the most outstanding communicator from her team of students. After graduation, Amreha hopes to work with a think tank strongly aligned toward the interest of a global democratic approach before pursuing a master's degree in international relations to best prepare to advocate for minority groups and achieve her goal of someday becoming a diplomat.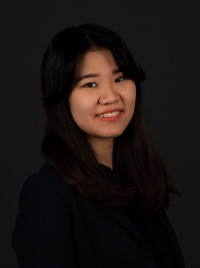 Akane Inoue is a chemistry and global French studies double major from Fukuoka, Japan. Having lived in six countries prior to the United States, she brings her unique perspective to advocating for international students' improved visibility and experience at DePauw. She was an International Student Ambassador for three years, taking on the Lead role in her junior year. During the spring 2021, Akane was one of two primary organizers of the "International Student Experience" workshop during DePauw Dialogue focused on raising awareness into struggles with social life, cultural adjustments, policies and discrimination for students who chose an American education. She is also involved in the Sustainability Leadership Program holding executive positions in DePauw iFOO:D, as well as the Society of Physics Students where she shares her interest in international food and culture along with her passion for science and sustainability. Akane served as the president of the Alpha Chapter of Alpha Chi Omega, the first international student to serve in this capacity; she is also a part of Phi Beta Kappa and Order of Omega honor societies. As a Science Research Fellow, her research projects included analyzing the structures of coordination polymers synthesized in ionic liquids during the summer of 2020 and conducted research abroad in KU Leuven in Belgium synthesizing novel fluorescent compounds in the fall of 2021. After graduation, Akane hopes to pursuing a graduate degree in chemistry focusing on synthesis and materials.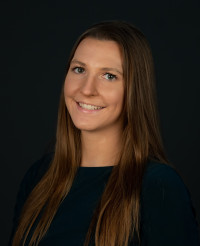 Grace Kinsey is an economics and actuarial science double major from Hawthorn Woods, Illinois. A three-year starting point guard on the Women's Varsity Basketball Team, Grace has a strong competitive spirit and enjoys working in team environments. She is passionate about DePauw athletics, and when she is not on the court, she likes working for the athletics department as a game-day worker for other sports. On campus, she is a member of Alpha Chi Omega and has been involved in many McDermond Center groups, taking leadership roles in the DePauw Investment Group and Women in Economics and Business. As a Management Fellow, Grace had the opportunity to intern with a private investments firm in the spring of 2021. At PSP Capital, she reported on public portfolio companies, reviewed incoming confidential information memorandums to provide recommendations on which opportunities to pursue, and joined active deal teams. While there, she discovered a strong interest in investment banking and the world of mergers and acquisitions (M&A). Subsequent internships with West Monroe Partners, the Greencastle Treasurer, and Tobin Capital Management solidified her desire to enter M&A. Grateful for several mentor relationships with DePauw alumni, Grace has chosen to pursue investment banking after graduation, joining Piper Sandler's Diversified Industrials & Services sector. She is excited to learn new things as she applies skills gained from internships and the DePauw classroom to her career.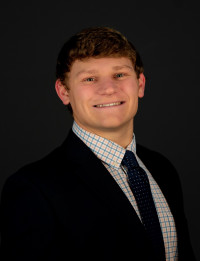 Jake Labus is an economics major and philosophy minor from Westfield, Indiana. A Management Fellow, he is also a former linebacker (now student coach) for the DePauw Varsity Football team, the Tiger Catholic president, an Admission Ambassaor, and a proud member of Delta Tau Delta Fraternity. Jake spent a summer leading high school retreats at St. Meinrad Archabbey, runs his own woodworking business, spent a year working with a private investor in Indianapolis, and has accepted a full-time offer post-graduation to work at Roche Diagnostics. Jake is most proud of his time spent helping his peers develop character and working toward their professional futures. From coaching, peer-reviewing resumes, running interview prep, and leading a weekly Bible study for over 25 men on campus, Jake strives to give as much back to the DePauw community as it has given to him. Jake would like to continue positively impacting the lives of everyone he meets in the healthcare industry and hopes to coach grade school football for years to come.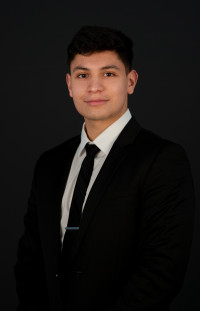 Cesar Mendoza is a biochemistry major, from Berwyn, Illinois, on the pre-medical track with minors in computer science and Spanish. As a Chicago Posse Scholar, Cesar has focused on fostering safe spaces for students of color on campus through leadership roles in The Brotherhood, Housing and Residence Life, DePauw Student Government and has been both a STEM Guide and Admission Ambassador. Committed to providing underrepresented students with opportunities in the pre-health field, Cesar is also attempting to re-charter the DePauw chapter of ​MAPS (Minority Association for Pre-Medical Students)​. Moreover, Cesar is passionately interested in the different ways public health is affected in and outside of the United States. As a sophomore, he traveled with Timmy Global Health on a medical service brigade to serve as an English-Spanish interpreter for the communities in the Napo province of Ecuador. Most recently, Cesar has been volunteering at the Putnam County Hospital with the Department of Public Health to document patients who are receiving their COVID vaccines. As a Science Research Fellow, Cesar has completed multiple research projects with faculty members in the physics and biochemistry departments. This past summer, he was selected to perform an 8-week cancer research project at the University of Chicago focusing on the effects of immunotherapy. After DePauw, he enters a 2-year rotational program with Indiana University Health as an Orr Fellow. Ultimately, Cesar is hoping to pursue a medical degree with the goal of serving low-income communities as a physician by​ helping to break language barriers ​and providing equitable healthcare.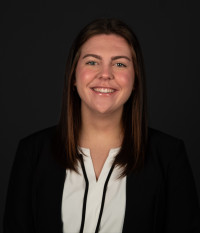 Natalie Michaels, originally from Valparaiso, Indiana is a double major in cellular and molecular biology and global health. On campus, she has been a part of the First-Year Experience Program for three years, working as both a First-Year Mentor for two years and most recently as a Peer Mentor. As a Science Research Fellow, Natalie has participated in multiple research opportunities both on and off-campus. At DePauw, she has studied the impacts of agriculture on the microbiome of soil and the role of socioeconomic factors in the adverse health effects of air pollution. Off-campus, Natalie has engaged in research focused on the synthesis of an unnatural fluorescent amino acid. An active member of her Greek chapter, Alpha Phi Women's Fraternity, she has served as both the director of new member education and the director of diversity. She has participated in the DePauw Dance Marathon by serving on the Riley Relations Committee and has had a radio show at WGRE since her sophomore year. Natalie has traveled to Cairo, Egypt for a Winter Term course to learn more about creative problem solving and the design-thinking process. Following graduation, she plans to pursue a master's degree in genetic counseling in the hope of becoming a pediatric genetic counselor.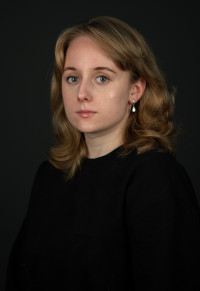 From St. Petersburg, Russia, Kristina Mikhailova is a physics and mathematics double major and a peace and conflict studies minor. Co-president of the DePauw Entrepreneurship Group and a Management Fellow, Kristina has completed several internships within and outside of the United States. She worked as a lab assistant at FabLab in Saint Petersburg, Russia and a business analyst for a Malaysian company called iStrata Digital. And in the U.S. has served as a data analyst with Fusion Education Group and a financial analyst with Eli Lilly and Company. During the summer 2020, Kristina represented DePauw at TechPointX S.O.S Challenge and participated in Elevate Origins' pre-accelerator program. During a recent Winter Term, Kristina completed several mapping projects around California and Nevada in the Mojave Desert with Professor Cope. As an international student, Kristina has been involved with the DePauw International Admissions Office, the DePauw International Student Association (DISA), International Student Advisory Board, JClub, and Slavic Club. Currently, Kristina serves as a co-president of DISA, which supports over 300 international students on campus. She advocates not just for international student needs, but also for the general student body as a Senator for the Class of 2022. Moreover, Kristina is a co-founder of the DePauw Orthodox Christian Fellowship. In her major, Kristina has conducted research with the Department of Physics and Astronomy measuring the lifetime of the neutron using a magneto-gravitational trap and in situ detection during the Summer of 2019 and that fall, Kristina worked with the DePauw University Nuclear Physics Laboratories to study the radioactivity of soil at the DePauw Nature Park. Also that fall, Kristina joined the DePauw's Ethics Bowl team and participated at the Central State Regional Ethics Bowl 2019 competition. Another of Kristina's passions is public speaking, which is why since her first semester on campus, Kristina has been involved with the DePauw Debate Club. She has participated in various state-wide and national tournaments and has several awards from the Novice National Forensic Association. Kristina also qualified for membership into the largest, oldest, and most prestigious forensics honorary society, Pi Kappa Delta and also into Sigma Pi Sigma Physics Honor Society. On top of everything, Kristina enjoys farming, and is a member of the Sustainability Leadership Program and has worked as an Ullem Farm intern. Lastly, she served as the environmental chair of Alpha Chi Omega. Currently, Kristina is working on creating a Panhellenic Environmental Committee, trying to make sure sororities on campus do their best at fighting climate change and its effects. As a senior, Kristina has been helping DePauw students improve their resumes and cover letters, as well as advising them on both job and internship search processes as a Coquillette Peer Consultant at the Hubbard Center. And she has worked as a tech assistant at the Help Desk, an S- and a Q-consultant at the Academic Resource Center, and a Resident Assistant for Longden and Jordan Halls. After graduation, Kristina will become a financial analyst for international businesses for Eli Lilly and Company.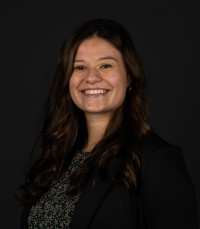 Olivia Neal is an English literature ​major ​with an Italian cultural studies minor born in New Castle, Indiana. An active member in Alpha Phi International Women's Fraternity, she has been the ​vice president of community relations and ​d​irector of sisterhood; she was also a Panhellenic Rho Gamma. Olivia worked on the relations team for Riley Dance Marathon, served as an ​Academic ​P​eer ​A​dvisor at the Academic Resource Center, and hosted a radio show at WGRE. Understanding that being involved and giving back to the Greencastle community is fundamental to being a successful De​P​auw student, Olivia both worked and volunteered off-campus in Greencastle at Tzouanakis Intermediate School with the TZ Friends ​Program and now works at the Greencastle Middle School After School ​Program. She particularly enjoyed DePauw's 2019 Italian Summer Immersion Program and hopes to return to Italy soon! Despite the difficulties of COVID, Olivia has interned as a ​m​arketing and ​s​ocial ​m​edia ​c​onsultant at DePauw's Women's Center and also at Owens Corning World Headquarters in Toledo, Ohio, as a member of their Sales Internship Program. Olivia ​has ​accepted a full-time position working in sales with Owen Corning after graduation.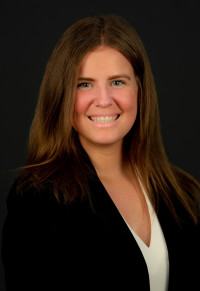 Paige Sanfelippo is an economics major with a minor in psychology from the suburbs of Saint Louis, Missouri. As a member of the Women's Golf Team, she has served as the team representative on the Student Athletic Advisory Committee (SAAC) for three years. This year, she is the diversity, equity, and inclusion committee chair on the SAAC leadership board. Paige has been the team captain for two years and received North Coast Athletic Conference (NCAC) Academic Honors during all four years. She had the opportunity to travel to Scotland (the birthplace of golf) during the fall of 2018, her first international travel opportunity. Paige is heavily involved in the Management Fellows Honors Program and has completed multiple internships within financial planning including a semester-long internship with Valeo Financial Advisors, LLC in Carmel, Indiana. She gained professional experience meeting with high net worth clients fully in-person despite it being the height of the COVID-19 pandemic. Paige served on the executive board of Alpha Chi Omega, as vice president of finance, and hosted impactful workshops teaching her sorority sisters financial literacy and skills to facilitate financial freedom post-graduation. Paige's passion for assisting females pursuing careers in the male-dominated financial industry has led her to serve on the executive board as the president of the Women in Economics and Business Club for three years, and her senior year she serves as the organization's president. In that role, she has collaborated with a multitude of notable alumni and works closely with the club's sponsor Eli Lilly. At the McDermond Center, she has had a key role in developing opportunities for women of all majors to attain internships in various facets of the business field. Paige has accepted a job within wealth management at Valeo and is looking forward to moving permanently to Indiana and staying connected to the DePauw community.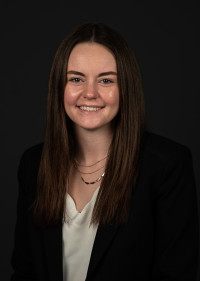 Leah Smith is a biochemistry and history double major on the pre-medical science track who was born and raised in Plymouth, Indiana. Leah has been inducted into the Phi Alpha Theta Honor Society and is a William Wallace Carson History Scholar. Having a passion for service and community involvement, Leah holds a variety of roles on the DePauw campus. As a Civic Fellow, Leah served as president, chair of community relations, secretary, and chair of its Giving Tree Fundraiser Committee for two consecutive years - collectively raising over $5,000 in donations for the Greencastle community. Her time as a Civic Fellow has led her to volunteer as a Tiger Pal, an Asbury Tower Pen Pal, a scribe for COVID-19 vaccine clinics, and a DePauw Student Friend at Greencastle Middle School. Leah has served in a variety of other leadership positions including DePauw Dance Marathon Executive Board, Admissions Ambassador, Student Advisory Board, a member of the Vice President of Student Affairs Search Committee, and the Day of Dialogue planning committee where she sat as a panelist for the 2021 kick-off event discussion surrounding breaking down biases and building community. Leah is a member of Alpha Phi International Women's Fraternity where she has served as co-director of social media, co-director of external events, and historian. Through her involvement with Alpha Phi, Leah received the opportunity to serve as a collegiate stewardship volunteer for the Alpha Phi Foundation where she assisted in efforts to raise almost $300,000 for women's heart health and scholarships. Leah is one of five individuals who chartered DePauw University Future Medical Professionals with the hope to foster a sense of community and support and to bring educational opportunities to students on the pre-medical track. This past summer, Leah was an Employer Strategies Intern at Hendricks Regional Health where she got firsthand experience learning about the administrative, financial, and marketing side of healthcare. She furthered her passion for public health by interning at the Putnam County Health Department during the fall semester. Her time at DePauw has taken her abroad twice where she has spent time in England, Italy, and Egypt. Following graduation, Leah hopes to attend medical school and attain a dual-degree MD-MPH.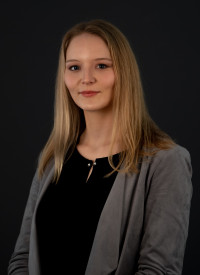 Nina Katarina Štular is an international student from Slovenia majoring in philosophy and English literature. During her time at DePauw she took part in the debate club, competed in Ethics Bowl on regional and national levels, and was a writing tutor in the Academic Resource Center. She has worked on several academic projects with her professors: she was a research assistant to Professor Reading on a project dedicated to mapping the sources of Old English and Anglo-Latin literary culture, she helped Professor Alvarez organize a conference on Bernard Mandeville, and she translated a 18th century collection of travel letters from English to Slovenian under his mentorship. As a Hillman Intern at the Prindle Institute for Ethics, Nina designed and organized workshops for local middle and high school children and worked on bringing an exhibit about Anne Frank's life to Greencastle. In her junior year, she represented DePauw as a Visiting Student at Mansfield College of Oxford University where she took part in student consulting groups, served as a senior editor of an undergraduate humanities journal, and competed in the summer Torpids race with her college rowing team. As a part of her Honor Scholar thesis, Nina is discussing the value of freedom of expression and its worrying state in Western academia. After graduation, Nina aims to return to the United Kingdom to gain work experience before pursuing further studies.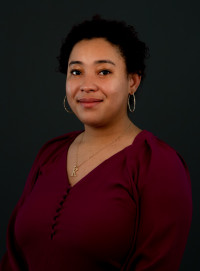 Kayla Thompson is an Africana studies major hailing from Bronx, New York. Since her freshman year, Kayla has been part of the Association of African American Students (AAAS) serving as an advocate for the Black community at DePauw. From her time as first year chair to now serving as the president, Kayla has worked to uphold the mission of AAAS by implementing diverse programming that centers Blackness and challenging social exclusion and oppression. Eager to incorporate her passion for equity and social justice through different avenues, Kayla has also taken on roles in DePauw Student Government. She served as a cabinet member on the Student Academic Life Committee and a member of the Board of Allocations to ensure equitable practices were used in distributing funding and resources to student organizations. During her time as a Development and Alumni Engagement intern, Kayla continued to support students and student organizations by fostering relations with the Robert G. Bottoms Alumni and Development Center. More specifically, Kayla focused on raising funds for AAAS and the Posse Foundation. She also collaborated with the Assistant to the Vice President for Development and Alumni Engagement to coordinate the 100th Rector Scholarship celebration in 2019. Furthering her commitment to advocating for the Black community, Kayla worked closely with Greencastle community members and leaders to restart the Greencastle NAACP chapter in 2019. She was elected and briefly served as the branch secretary. In 2020, she launched a fundraising campaign through AAAS to assist with maintaining the chapter following the pandemic. Additionally, Kayla coined the hashtag #PawsToThePolls, as part of her internship project with the Greencastle NAACP to increase student voter participation during the 2020 presidential election. On campus, Kayla is a Greek leader and proud member of the Lambda Tau chapter of Zeta Phi Beta Sorority, Inc. She has served on the DePauw National Pan-Hellenic Council and began to foster relationships with other councils, with the intention of holding them accountable to diversity, equity and inclusion. Aside from her campus life involvement, Kayla is an aspiring race scholar interested in studying structural racism, legacies of colonialism, and legacies of slavery throughout the Black Diaspora. Kayla submitted a paper to the National Conference of Black Political Scientists that was recently accepted and anticipates presenting it in March 2022. Kayla has had the opportunity to study in South Africa and in Minneapolis, Minnesota. Upon graduation, Kayla plans to pursue a dual-degree program to earn her JD and PhD in order to continue to advocate for justice for historically excluded and marginalized groups.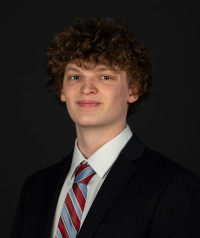 Danny Toll is a political science and economics double major from Cleveland, Ohio. Beginning in 2018 he has been involved in several of his own small-scale entrepreneurial ventures in e-commerce. From this experience, he developed a passion for building and growing something from the ground up. His past success in marketing and designing websites for these ventures led him to an internship at Distinct, a web design company based in Greencastle that focuses on supporting the growth of small businesses through web design and optimization. He has since continued his work with Distinct and is currently involved in a copywriting role with the company. His interest and experience in entrepreneurship and start-ups have motivated him to pursue a career in venture capitalism so that he can contribute to the growth of start-up businesses and help others achieve success through innovation. He also plans to eventually further his education through a business master's program. His current and future career path are both centered around the goal of obtaining the skills and expertise needed to start his own business later on in his career.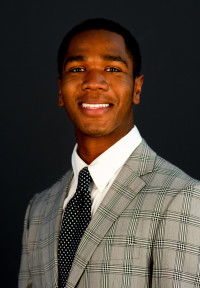 Aaron Wills is a biochemistry major, Spanish minor from Indianapolis. He is a Percy L. Julian Scholar, as well as a Katherine Cox Hoover scholar. Aaron has served at DePauw in multiple leadership positions including: vice president of finance for Timmy Global Health, morale director for Riley Dance Marathon, vice president of recruitment for Future Medical Professionals, risk manager and vice president for Delta Tau Delta Fraternity, and is also member of D3TV, Student Athletes of Color, Volleyball Club, as well as the Varsity Football and Soccer Teams. As a biochemistry major, Aaron decided to take a less traditional approach to the time spent in research, focusing on the inclusivity in STEM. He is currently leading the efforts in the creation of a mentorship program, designed to connect students of color and first generation students in the STEM umbrella, with alumni that have the same identities. His passion for Spanish and service led him on the Servicio en Las Americas Spanish immersion trip to Costa Rica. Aaron's interest in medicine was started after his freshman year internship with Hendricks Regional Health; his then interest was further quenched by his junior and senior year internships with the data science company IQVIA, which focused on business development of clinical trials. Throughout Aaron's time at DePauw, he was given the opportunity to travel not only on the Servicio trip to Costa Rica, but also to England and Peru for Winter Term trips. Upon graduation, Aaron plans to continue his interest in medicine by working in the sales field, and plans to obtain his MBA.