At the conclusion of every academic year, DePauw University gathers to celebrate the most accomplished and impactful members of our senior class. These students represent DePauw's values—on campus and in the world. They inspire us and make us proud to learn, live and work among them.


THE WALKER CUP

The Walker Cup is awarded to the senior who has contributed the most to the University community during their four years on campus.
Peter Gorman 2018 Recipient
Major: Global Health
Hometown: Chicago, Ill.
As someone who is committed to community service, Peter is a member of Alpha Phi Omega National Service Fraternity, Civic Fellows, a DePauw Community Service Coordinator through the Hartman Center, and a Bonner Scholar. He has served as president of Timmy Global Health, president of Civic Fellows, is an active member of his fraternity, Delta Upsilon, and has served as vice-president of diversity and inclusion for the Interfraternity Council where he implemented diversity chairs for all IFC chapters.
Peter is also the president/co-founder of DePauw First, an organization focused on building a sense of community among first-generation college students and providing necessary resources for them to succeed at and beyond DePauw.
As an aspiring medical professional, upon graduation, Peter is hoping to attain a masters degree in public health and eventually go on to medical school.
Ben Kusber
Major: Cellular molecular biology and German
Hometown: San Carlos, Calif.
While a student, Ben has been a Presidential Ambassador, served on IFC executive council in two different roles to promote diversity and inclusion within the council and Greek community, and served on the LGBTQIA+ Advisory Board to help students have a stronger voice on campus.
After graduation, Ben will be moving to Indianapolis to work for The Damien Center, an HIV/AIDS clinic working towards being a resource for advocacy, treatment, and prevention for those living with, or at risk for, HIV or AIDS.
Diamond McDonald
Major: Political science
Hometown: Indianapolis, Ind.
As a sophomore, Diamond recognized the lack of diversity in DePauw's Residential Life staff and prompted the university to increase its inclusivity when making applicant decisions, ultimately earning her a position as a residential assistant, a job that she has to this day. She was also an active leader within DePauw Student Government taking on a range of roles.
Upon graduation, she will be attending the Thomas M. Cooley Law School in Tampa where she plans to continue her legacy as an "uncommon" change agent in the field of law.
THE MURAD MEDAL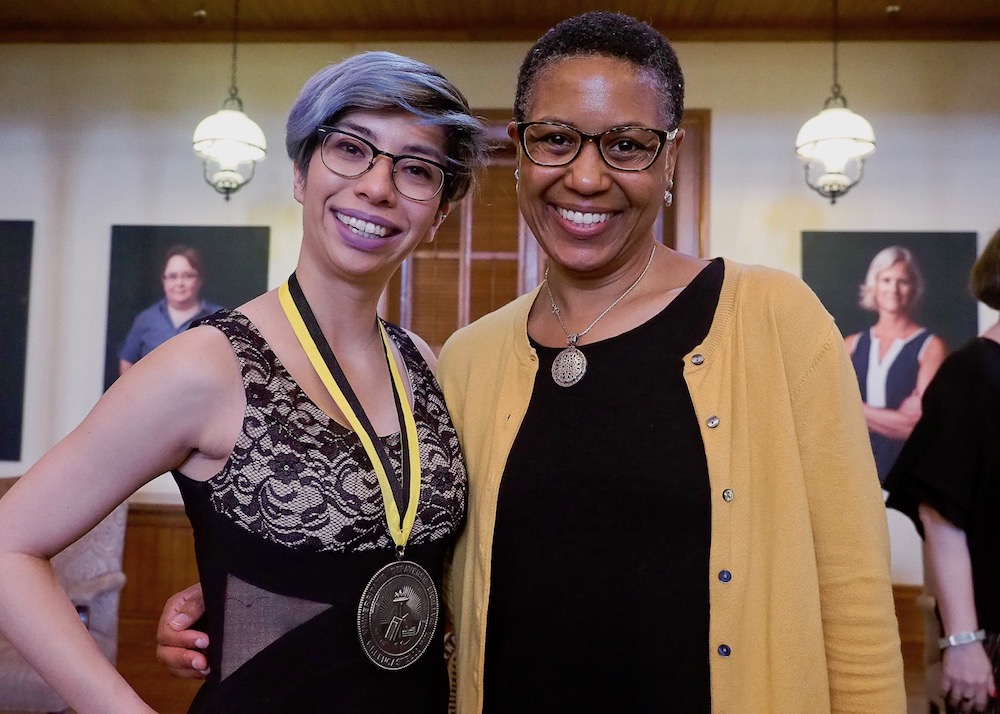 Named for Nobel laureate Dr. Ferid Murad '58, the Murad Medal recognizes the senior who has had the most significant scholarly or artistic achievements during his or her time at DePauw.
Elizabeth (Liz) Aguilar 2018 Recipient
Major: Biochemistry
Hometown: Los Angeles, Calif.
Liz is the recipient of the NSF Graduate Research Fellowship, an alternate for Fulbright research in Sweden, a 2017 Barry M. Goldwater National Scholarship recipient, American Chemical Society Scholar, Grace Hopper Scholar, and Hispanic Scholarship Fund two-time finalist.
As a DePauw freshman, Liz worked with biochemistry professor Dan Gurnon and the Rare Genomics Institute to provide diagnoses for rare disease patients. During summer '15, Liz participated in the Clarity Challenge with researchers at Boston Children's Hospital with aims to provide the best bioinformatic diagnosis for rare disease patients. Liz has also participated in genetics research at Stanford University, University of Geneva and University of Washington. Collectively, Liz has presented at six conferences across the U.S and in Helsinki, Finland.
As a first-generation LGBTQ+ college student and child of Latin American immigrants, Liz aspires to become a professor and mentor for underrepresented students. Liz will attend the Genome Sciences Ph.D. program at University of Washington to pursue computational biology and a dual masters in data science.
Blake Beckemeyer
Major: Vocal performance and mathematics
Hometown: Pittsburgh, Pa.
Blake has performed outside of DePauw with principal roles in operas in Austria, Halifax, Canada, and New London, CT, and won competitions in Indiana and the Kalamazoo Young Vocalists Competition. Last summer, he went to SongFest as a Young Artist, and met GRAMMY winner Libby Larsen, who requested he record three of her works. As a professional chorister, Blake sang with Bach scholar-conductor Helmuth Rilling for performances in Thüringia and as part of GRAMMY winning Bach Ensemble-Helmuth Rilling. This summer, Blake is contracted at the Oregon Bach Festival.
His Honors Scholar thesis develops a methodology to analyze the recitatives of the Bach passions, presenting two lecture recitals on the topic. In the Mathematics Department, his senior thesis gives the intervening analysis for "On the number of nonnegative partial sums of a nonnegative sum."
Anna Savery
Major: History
Hometown: Zionsville, Ind.
Anna is an Honor Scholar, a William Wallace Carson Scholar, and a member of Phi Beta Kappa, Mortar Board Honor Society, and Phi Alpha Theta history honors society.
For her History senior seminar, Anna wrote an urban microhistory entitled "Irvington in Transition: How a Prominent Indianapolis Near Eastside Neighborhood Declined in a Decade, 1920-1930." In her Honor Scholar senior thesis, she sought to comprehend real individuals' experiences during the Vietnam War, where her great-uncle served in the 101st Airborne in 1968. Her paper, "Exoticizing the Unfamiliar: American Soldiers Processing Vietnam through Photography," examines how veterans' processed their daily experiences in Vietnam through personal photographs submitted to the Library of Congress as a part of the Veterans' History Project.
Outside of her academic work at DePauw, she has completed a research project for Indiana Legal Services, the largest free civil legal aid organization in the state, to honor its fiftieth anniversary. She also worked with the Indiana Historical Society to create a Keep Indianapolis Beautiful pocket park in a neighborhood on the Near Eastside of Indianapolis. She located and analyzed primary source documents to recreate the history of the small neighborhood community, Springdale, and she authored and organized the exhibit panels. The park, Chinquapin Oak Park, is a permanent museum exhibit-style installation.
After DePauw, she intends to study museum curation at the graduate level in preparation for a career sharing history with as broad a public as possible.