Dr Amanda Kim
Vice President for Diversity and Inclusion

Yoanna Sayili
(she/hers/hers)
Interim Assistant Director of the Center for Diversity and Inclusion
Yoanna joined the larger DePauw community in the summer of 2016 and the Center for Diversity and Inclusion as an employee in the fall of 2018. She was born and grew up in the Republic of Bulgaria, located in South-Eastern Europe. She completed a Master's degree in law with Sofia University Sv. Kliment Ohridski (Bulgaria) and a Diploma program in English and EU law with Cambridge University (United Kingdom). She worked as a legal professional, before meeting her husband and moving to North America. Yoanna earned a Master of Science degree in Strategic Management from Queen's University, Kingston, Ontario, and worked in the Graduate Studies and Research Office of the Faculty of Education. She has lived in 3 different countries and 5 different towns. Yoanna is passionate about learning, growing and helping others do the same. She loves traveling, meeting new people and immersing herself in new cultures. These days you can often see her and her family enjoying quality time together on campus and at Starbucks, walking downtown and dining at Hoover.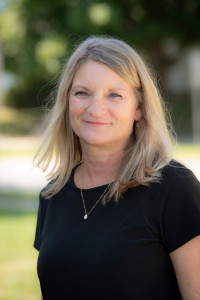 Teresa Roberts
(she/hers/hers)
Office Manager of Center for Diversity and Inclusion
Teresa comes to the Center for Diversity and Inclusion after working in the Office of Admission for ten years and assisting International students in their application process. She has a passion for working with students on all aspects of life and experiences and to make sure they all feel welcome when they step into the Center for Diversity and Inclusion. In her spare time, she enjoys running and spending time with her family.