2020 DePauw Virtual Summer English Institute Teaching Assistants
One of the most beneficial features of the English Institute is building relationships with the upper-class DePauw student who serve as Teaching Assistants. Teaching Assistants support students adjustment to life at DePauw both inside and outside the classroom. These skilled student leaders become valuable resources and first friends for new international students who participate in the English Institute.
Please meet the Summer English Immersion Institute Teaching Assistants welcoming the 2020-21 VSEI participants: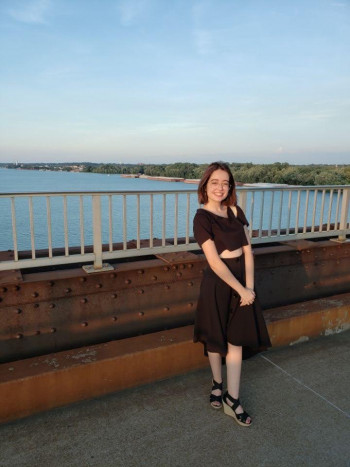 Hi guys! My name is Area Guede Ramos, I am a rising senior from Spain, and I am an English Literature and Religious Studies double major. At DePauw, I am a First-Year Mentor, the Editor for A Midwestern Review, the Senior Delegate for the International Student Alumni Association and the President of the Photography Club. I enjoy reading and writing poetry, dancing, roller skating, traveling, and meeting new people! I also love being really involved on campus, particularly with art-focused clubs, as well as organizations that work towards celebrating all the different cultures present at DePauw. I am really excited to be a Teaching Assistant for the 2024 class of international students!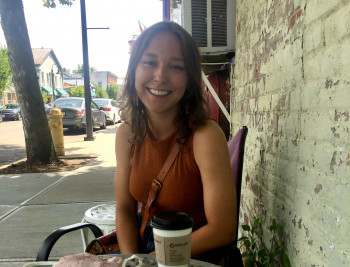 My name is Sasha Taxter and I am a rising junior English literature major from Ohio. On campus I am a Writing Associate, Writing Center Tutor, Honor Scholar, member of the Interfaith Council, and a Prison Partners volunteer. When I'm not studying, I enjoy reading on the Kappa porch, biking on the Greencastle backroads, or just being outside with friends. Through my teaching positions on campus I've collaborated with many international students, but this is my first year being a TA for the Institute. As a Research Assistant for the Institute this summer, I helped find ways to make the program as fun and informative as usual, even though it will be in virtual form. I'm so excited for the program to finally begin and to meet everyone!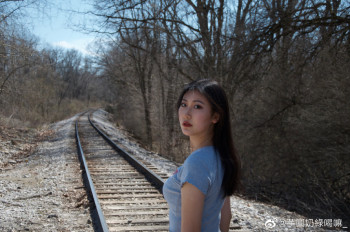 Hello Class of 2024! My name is Yuji Mao (Jasmyn) from Wuxi, China. I will be a rising senior in Sociology major in Fall, 2021 since I will take a gap year due to the pandemic situation. I served as an international student ambassador last year and the Public Relationship Chair of DePauw International Student Association (ISA) in 2018. I really enjoy interacting with people, especially with those who have different cultural backgrounds. I'm a huge foodie (so if you wanna grab food together feel free to hit me up!). I also enjoy traveling, watching movies, hiking, cooking, and photographing (taking pictures by others lol). Depauw brought me the chance to meet and make friends with so many amazing international and American students.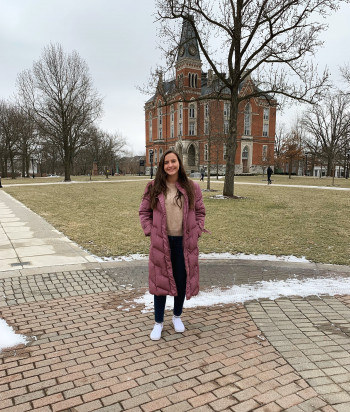 Hi everyone! My name is Lily Rutledge, I am a rising sophomore from Orlando, Florida, and I am a member of DePauw's School of Music. I intend on majoring in Viola Performance with a minor in English Literature. I am also in the Honor Scholar Program, a Writing Center tutor, a First-Year Mentor, and a member of Alpha Chi Omega. In high school I swam competitively and played water polo, so I love to go swimming in Erdmann Natatorium any chance I get! I also enjoy drinking coffee, writing, reading, and running. On campus you'll most likely find me in the GCPA or (if the weather is nice) sitting outside with coffee in hand. I'm so excited to meet all of the incoming international students as a TA for this year's Summer English Institute!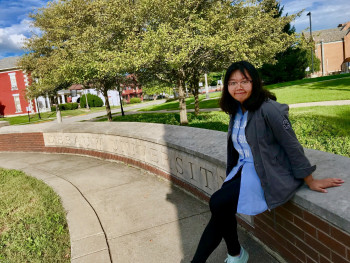 Hi! My name is Linying Zhan and I go by Vinnie! I am a rising senior from Zhejiang, China. My major is Environmental Biology and I'm a member of the Environmental Fellow Program. I'm a Q tutor at the Academic Resource Center and I'll be a TA of the English summer institute this summer. Last year, I did a summer research program that aims on turning plastic waste into sustainable new products. I enjoy reading and cooking very much. I'm more than willing to answer any question you have on study or daily life! Looking forward to meeting you!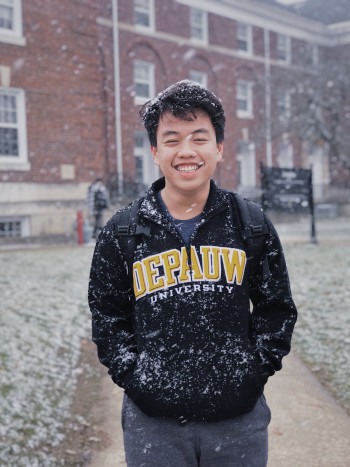 Hi Tigers! My name is Troy Tien Nguyen coming from Ho Chi Minh City, Vietnam. I am a rising sophomore double-majoring in Communication and Computer Science. On campus, I am part of the ITAP Institute and Media Fellows. I am also the YouTube Director of D3TV, the International Liaison of the Admission Office, and the First-Year Mentor. I love reading, meeting inspiring people, and pushing my limits. Fortunately, DePauw supports all of those interests, and I hope that DePauw can enrich yours as well. As the Teaching Assistant in the VSEI, it is my honour to welcome the international Class of 2024 to this beautiful home, and I can't wait to get to know every single one of you!