Connect with Students
Jump to a Section:
Recruit HomeLearn About Our StudentsRecruit on CampusHire an InternPost Jobs & InternshipsRecruiting StrategiesRecruiting PoliciesSchedule Your Visit
---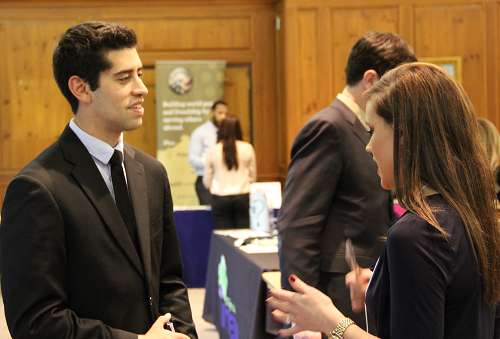 Connect with DePauw students in a variety of ways! Learn more about the variety of ways that you can host students for job-shadowing and internships. You can also check out ways to recruit students for full-time opportunities once they graduate.
---
Recruit on campus
There are numerous ways to get involved on campus, including:
Case Activity: Participants compete for the best solution to a business or industry-related problem created by the employer within an allocated time frame.
Career Connections: This series traditionally consists of a panel event that is designed to introduce students to various industries and organizations in those industries; after general questions are answered by the panel, there is a period of time for networking between students and employers.
Career Fair: Attendance at our career fairs includes students from all majors and programs on campus
Career Fair Sponsor Video Message: Fair sponsors may record a video introduction of their company for use in Fair marketing
Employer in Residence: The employer volunteers a period of time (usually a day) to offer a variety of services, including resume critiques, mock interviews, networking advice, and general career advice, to students in individual 15-20 minute meetings.
Extended Studies: Students may complete a 4-week internship as an option to complete their Extended Studies requirement. This short-term internship allows students to contribute to a company by completing a condensed project or research for the employer. This is also a way employers and students can extend a semester-long or summer internship.
Information Session: These sessions comprise of a company profile presentation by the employer followed by questions from the students
On-Campus Interviews: The company selects the criteria for the students they wish to interview—only those students will have access to the event. Employers can choose either a preselect schedule, where they choose the students whom they wish to interview, or an open schedule, which allows any student to sign up for an interview
Specialized Event: We will work individually with employers to create an event to meet specific recruiting needs
Back to TopLearn About Our StudentsRecruit Home
---
hire an intern
DePauw provides opportunities for students to gain credit and experience through internships in multiple ways:
Summer Internships
Summer internships are an increasingly important career preparation opportunity for DePauw students. More students do internships during the summer than any other time of year. These working interludes provide substantive experiences via numerous in-depth projects for gaining valuable knowledge and skills
Expectations of Summer Internships

A minimum workload of 35 hours per work for 8 to 10 weeks during the summer
Compensation at an hourly rate ($10-12 is typical) or equivalent stipend
Orientation to acquaint student with host organization and industry
Job description of work assignments and projects/tasks
Specific and attainable tasks that help develop new skills in the area of professional communication, organizational literacy, and personal career development
Hosts provide feedback on intern progress, strengths, and talents
Intern exit interview and evaluation
Students can earn 1 Extended Studies credit for a summer internship
Back to TopLearn About Our StudentsRecruit Home
---
Short-Term Internships
This option is a short-term, intensive internship experience over DePauw's Winter Term or May Term, when students pursue a career exploration opportunity in any industry. This experience enables students to learn more about career options in a given industry and build on professional skills, goals and knowledge in a meaningful way. Experiences can vary, and the student is instrumental in working with their host organization to outline what it is they want to learn about the industry they will be working in.
Expectations of Short-Term Internships:
Internship workload of at least 30 hours each week. Students have the option to work in more than one organization or department over the four-week period and divide their working hours accordingly.
A supervisor within the organization must be assigned to the student during their experience. An internship contract is completed by each student that details the student's responsibilities and learning outcomes during their internship. This could include project or research-based work, or simply outline the "job-shadow" or observation schedule for the student.
An exit interview is conducted at the end of the short-term internship between the student and host supervisor as a way to give mutual feedback on the experience.
Host supervisors are expected to complete a student evaluation form to assess the overall performance of the intern.
This can be a paid or unpaid opportunity.
Students can earn 1 Extended Studies credit for a short-term internship.
Semester Internships
Independently designed off-campus internships consist of academic credit (4 credits total) for full-time (35-40 hours each week), semester-long internships in conjunction with academic work for a period of 12-16 weeks.
Planning for a semester off-campus involves collaboration with faculty and staff far in advance, and students seek advising as early as possible.
Guidelines for a worthwhile experience are the same as summer internships, but longer-term projects can be assigned due to the extended timeframe. Students can earn 1 Extended Studies credit for a semester-long internship.
Fellows Programs Semester Internships: Please contact the program you are interested in to learn more about specific requirements for their students.
Back to TopLearn About Our StudentsRecruit Home
---
Posting Jobs & Internships
Post a Job or Internship

Employers and Recruiters:
We invite you to login or create a profile on Tiger Tracks, powered by Handshake.
For DePauw alumni, parents, friends, faculty, staff and students:
Complete this form to share a publicly available opportunity.

Complete this form to share an opportunity only for DePauw students. Company contact information will be made available to the Tiger Tracks employment system; however, contact information and opportunity descriptions will only be available to DePauw students.
Back to TopLearn About Our StudentsRecruit Home
---
Recruiting Strategies
Hiring Interns and/or Full-Time Candidates
Have a strategy meeting with the Hubbard Center Employer Development Team
Create your organization profile and post your open position(s) in Tiger Tracks, powered by Handshake

Participate in on-campus recruiting events to help students learn about your company
Attend a career fair
Advertise your campus visit in The DePauw

and interact with

Hubbard Center social media
Reserve space for on-campus interviews

Back to TopLearn About Our StudentsRecruit Home
---
Recruiting Policies
Equal Employment Opportunity
DePauw University is an equal opportunity/affirmative action employer committed to attracting and retaining highly qualified individuals who collectively reflect the diversity of the nation. No applicant shall be discriminated against on the basis of race, national or ethnic origin, age, gender, sexual orientation, gender identity and expression, marital status, religion, creed or disability.

Organizations visiting the DePauw campus are likewise expected to conform to equal opportunity regulations in their recruitment practices. DePauw University does not knowingly invite or provide assistance and facilities to employers who discriminate in their selection of employees on the basis of sex, age, disability, race, color, religion, marital status, veterans status, national or ethnic origin, or sexual orientation.

All employers and organizations recruiting at DePauw University are required to adhere to National Association of Colleges and Employer (NACE) Principles for Professional Practice, the Department of Labor laws and regulations, and the Equal Employment Opportunity Commission (EEOC) recruitment and employment guidelines and laws established by the Federal and Indiana governments.
Recruiting Guidelines
DePauw University reserves the right to refuse service to employers for factors such as:

- Misrepresentation by dishonesty or lack of information
- Fraud
- Complaints from students
- Harassment of DPU students, alumni or staff
- Breach of confidentiality
- Requiring personal information such as bank and social security numbers at time of application
- Positions not appropriate or of likely interest to college students or alumni
- Excessive outlay of personal funding required to obtain the position
- Failure to adhere to Hubbard Center policies and/or any violation of DPU rules and regulations, and local/state/federal laws.
Third-Party Recruiters
DePauw University reserves the right to refuse service to third party recruiters. Third party recruiters are agencies, organizations, or individuals recruiting candidates for employment opportunities other than for their own needs:

If DePauw University allows a third party recruiter to participate in recruiting activities, they must:

- Reveal to the Hubbard Center the identity of the employer being represented and the nature of the relationship between the agency and the employer, and understand the Hubbard Center will confirm this relationship with the named employer.
- Adhere to all policies and procedures outlined above
- Meet the NACE and EEOC policies described above
- Charge no fee to the candidates
- Provide a job description for all positions being recruited
- Understand the Hubbard Center will not release resume books to them.
Back to TopLearn About Our StudentsRecruit Home
---