Sophomore Institute - SI17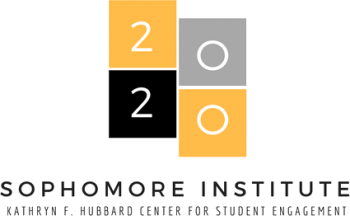 Rising Sophomores:
Welcome to Sophomore Institute! On Monday, August 21st, we will host the Class of 2020 for a half day of goal setting, tips on telling your story, and connection with alumni in diverse fields such as: non-profit management, arts administration, medicine, law, business, education, and more!
Join us for the 6th annual Sophomore Institute on:
Monday, August 21st from 8:00 am - 1:30 p.m. or 11:00 a.m. - 4:30 p.m.
Click Here for Session Descriptions
Sophomore Institute is a professional conference-style event that will engage you in planning to pursue your future endeavors. You will listen to leaders and employers in diverse industries to help you make the most of your second year at DePauw. They will provide you with the resources and support to start successfully preparing to pursue your professional and post-graduate goals.
Registration for Sophomore Institute 2017 is now open! Register now to confirm your enrollment for the morning or afternoon portion of the day.
Registration closes on August 10th!