Resumes for Recent Grads
May 11, 2017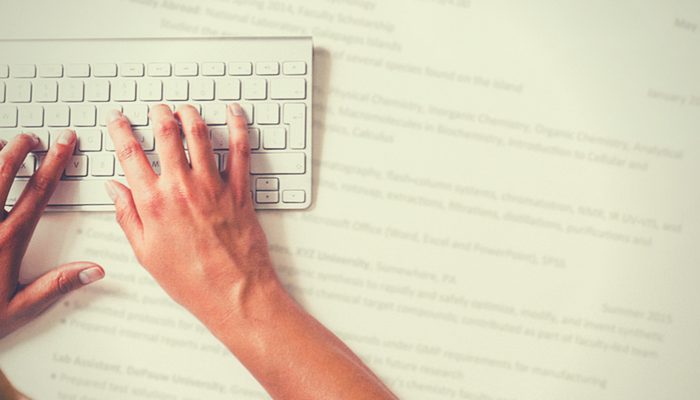 Earning a college diploma is an enormous achievement. So, first of all, congratulations! But if you're reading this, you're already thinking about what comes next.
As the career adviser at DePauw University, I work closely with students and alumni on what is known as the Career Process, covering everything from career discernment to negotiating and accepting full-time employment offers. Together, we work on crafting various documents that are often mandatory to submit to any employer or organization to be considered for employment.
One of the most common pieces we work on is the resume: a daunting – yet simple – document that when mastered, truly puts the person in the driver's seat when navigating and managing their career. Remember, employers are looking for someone to be an "asset" and "fit," and the resume proves just that.
It's always helpful to go over a resume line-by-line during a scheduled appointment, but if you can't meet with me, here's some advice that will hopefully help you craft a winning resume and land an interview.
FIGURE OUT THE FORMAT
If you haven't written a resume before (or you want to start fresh) the first thing you'll want to think about is the overall layout of the document. A good format does most of the work for you: it presents your experience in a way the reader can immediately digest, and it puts you in the best position to tell your story.
I like to ask the students I work with to do a quick exercise to help them envision the end result. Open up your web browser and do a Google image search for pictures of resumes. As you click through them one-by-one, save the resumes you like. That way, when you begin working on your own resume, you can go back to these examples and combine different elements from them as needed.
Remember, you don't need to reinvent the wheel. As enticing as it may be to try something completely different, conventional formats work for a reason. Studies suggest that when your resume lands on a person's desk or computer screen, you have anywhere between six to ten seconds to capture that person's attention. You want your resume to be a good distraction, not a bad one.
Here are a few format guidelines that will keep you on the right track:
Sans-serif fonts (Helvetica, Tahoma, Arial) generally make for a more professional presentation.

Avoid using color or graphics unless you're applying for a job where creativity and visual design are important. If you do use color, make sure it still looks good when printed in black and white.

Keep your headers at the top and left edges of the page where they will naturally attract the eye.

Leave white space around blocks of text to make the page easily scannable.
FOLLOW THE DESCRIPTION
The job description is your best friend, your guiding light, your checklist in terms of the words and verbiage you're going to use in your resume. As you read a job description, try to synthesize what it's telling you; ask yourself, "Who and what is it this thing is looking for?" and try to picture the individual it describes and how your skills and experiences fit that picture. That's the "who" and "what" your resume should communicate.
You'll also want to make a note of any skills or industry-specific terminology that show up in the job description and steal them for your own application materials. Resumes often go through what's called an ATS, or an applicant tracking system, that scans for keywords in the text. These systems can reject up to 80-percent of the resumes a large company or organization receives. So, you might think you're being really creative by using unconventional headers and terminology in your resume, but if it's not the language the ATS is searching for, your application may never reach somebody's desk.
SUMMARY YES, OBJECTIVE NO
For recent grads, I don't recommend including an objective statement at the top of your resume. Objectives are much more useful for individuals with established careers who are looking to make a change.
However, if you need to add length to your resume, you can include a quick summary statement at the top. You can think about the summary statement as a snapshot of a cover letter, describing who you are and what you bring to the table in a few lines.
The other advantage of a summary statement is that it can act like connective tissue between your cover letter and resume. If somebody has already read your cover letter, the summary can reinforce the same themes. On the other hand, if your cover letter was ignored (or you weren't asked for one), the summary gives you a chance to describe yourself and put everything that follows in that context.
TALKING ABOUT EDUCATION
It's more helpful to include details about your education as a recent graduate than it is for somebody with an established career. For example, if you only just graduated from college, including your graduation date can help explain that you might be short on work experience, but filled with potential.
By the time you graduate, you're likely to have coursework under your belt connected to the kind of job you're looking for. If you've completed a practicum, a thesis or some kind of research project – anything that illustrates a high level of familiarity with the job or industry – you'll want to add that experience to your resume. The same goes of any fellowships or awards you received, or membership in a competitive internship or academic program during your time in college.
But in both of the above cases, don't simply name the experience or accolade and assume the reader will know why it's important. Make sure to include a short blurb (one to three lines) that explains what it was and/or how you earned it.
Your GPA is also useful measure for employers to have when they're looking at a person with little work experience, but only include yours if it is 3.0 or higher, assuming it is on a 4.0 scale.
QUANTIFY AND QUALIFY
Beneath each item of experience you provide, your resume should include bullet points, or accomplishment statements, that will explain what you did and how it is relevant to the position you're seeking. These statements should both quantify and qualify the experience.
For example, say you were a math tutor at a local elementary school.
Instead of: Tutored fifth-graders in math
You can write: Tutored 15 fifth-graders in math
Once you've quantified what you're talking about, qualify it with a by, to or which. Qualifying your accomplishments with these words can dramatically change their impact:
Tutored 15 fifth-graders in math by planning weekly activities and lessons
Tutored 15 fifth-graders in math to give back to the community
Tutored 15 fifth-graders in math, which increased test scores by a full letter grade
By quantifying and qualifying your accomplishment statements, you can give the reader a clear picture of what you did, what motivates you and how your experience connects to the job opening.
A FEW MORE THINGS
Industry experience: If you've already had some experience in the industry or field that you're applying for, make sure you lead off with it and place it under its own header. For example, if you're seeking a job in communications and you had an internship at a TV station, place that experience under "Communications Experience."

Activities: It can be useful to list examples of campus activities or volunteer work you've been involved with. Even if it isn't specifically related to the job, it can show the kind of person you are and differentiate you from other candidates.

Skills: List any skills that are obviously related to the job description. But stick to hard, transferable skills like fluency in a foreign language or a technical skill

Single or Multi-page?: For recent graduates, a good, general rule is to try to stick to one page unless you can take up three-quarters of the second page with something more than filler. If something is too good to leave off, but it only fits by adding another page, it probably should have been on the first page.

Your master resume: During the course of a job search, you'll want to tweak your resume to fit specific openings. I always recommend starting a master resume of every experience and accolade from throughout your life. The earlier you create your master resume, the less time you'll need to spend when you apply for jobs in the future.
For DePauw Students
If you're a current DePauw student or recent alum of the University, you can schedule an appointment with me to discuss any and all career related topics by contacting me through my information on the Hubbard Staff page. Otherwise, you may find our Hubbard Guide for Resumes helpful as you work to craft your own.
Finally, good luck!
---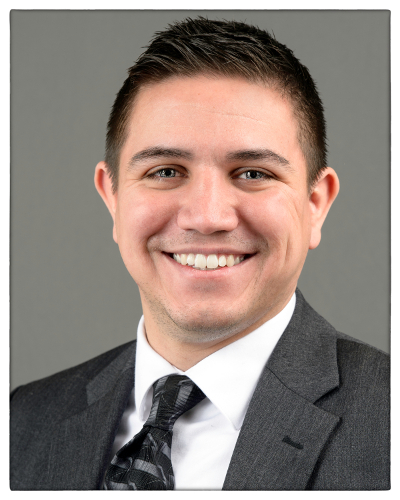 Nick Minich is the career adviser at DePauw University. He has an unbridled passion for helping people become the best versions of themselves through finding purpose in their everyday lives. Nick discovered this passion through his own career journey that began in law enforcement. He received his M.Ed in higher education administration and student personnel from Kent State University and previously worked in residence life and recreational services before joining the Career Team at DePauw's Hubbard Center for Student Engagement.
comments powered by

Disqus