Student Post: Where in the world a Fulbright can lead you
March 6, 2015
By Kandyce Anderson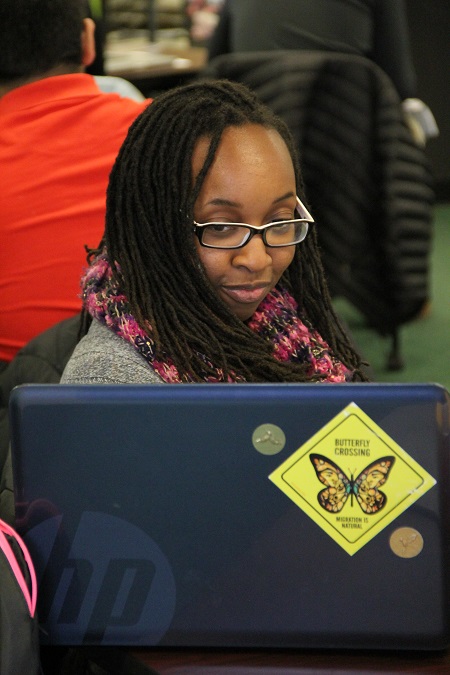 The process of applying for a Fulbright, at least for me, was very stressful. However, during the process I realized that I could have taken a deep breath and just strive to do my best. Looking back on it, I may have actually done almost everything the wrong way. I waited to the last minute to start the application, which was the basically the first week of school; I changed my destination in the middle of the process, in about mid-September; and I technically quit and reconsidered before my final interview, in October. Now I, by the grace of God, am a finalist for the Fulbright Scholar Award, an international U.S. ambassador program that allows you to either teach or do research in another country for a year.

I'm sure you are wondering why I am telling you all this. I am telling you this because I want to show you that with people like the advisers in the Hubbard Center advisers supporting and guiding you to pursue your passions and interests, you can be successful.

First, the Fulbright application process involves extensive preparation starting at the end of your junior year. Once you have identified that you want to go to another country to teach or study, you spend the summer figuring out which program is the right fit for you and you begin to write a draft of your personal statement. I suggest you take advantage of the summer! I did not and September was rough to say the least. In September, the ball gets rolling. Meetings and workshops get you ready to submit an application. During this time you are expected to have your country picked out and to approach a sponsor in the country of your choice. There are many informational meetings to provide all the information that you would need to keep your priorities in order. There are also past Fulbright recipients who may come speak on campus. Go! These are the opportunities you get to ask whichever questions you want to ask. By the end of August, most applicants have references, a sponsor and a good grasp on things concerning the application. This was the point where I was struggling to get my application together. (Like I said, September was rough.)

Fortunately, I received strong support, which helped me survive. My direct adviser was Kate Knaul from the Hubbard Center. Kate was excellent in her ability to not fall for my dramatics. I say that in jest, but honestly, her greatest gift to me was her ability to understand me. She listened closely to my passions and my studies, eventually guiding me towards verbalizing just what I wanted to say. And she did this even when I wanted to quit every other week. Articulating how I connected the Fulbright research program to my passion for education policy and comparative studies made all the difference in how I came across in my application. It helps when your location of interest connects with your future goals and desires. Kate helped me find that connection as well. Her support and guidance did wonders for me. This is what the Hubbard Center has that most schools do not: competent advisers who care. Take advantage of the small school atmosphere here! It is possible for you to know the names of every staff member in that office. Make an appointment. Sit at the advising bar. Their help can and will make a difference.

The last part of the process was the award committee interviews. Everyone on that committee is on your side, wanting to help you strengthen your application. Don't stress out about the interviews. By this time you have done extensive study on your place of interest.

I want to encourage you wherever you are in your decision to apply for a Fulbright - whether you are simply thinking about it, never heard of it, or are already committed - that there is no need to stress. There is no need to lose sleep. If you have a dream, go for it. If it was possible for me, it is possible for you.

Kandyce is a senior education studies major from Avon, Ind. Learn more about Fellowships and Awards options, and schedule an appointment to learn how the Hubbard Center can help you.
comments powered by

Disqus