Junior Jumpstart
Junior Jumpstart sessions are an opportunity to hear from a panel of DePauw alumni about how they navigated their curricular and co-curricular experiences at DePauw and reached their post-graduation goals.
Group Internship Advising
The key to getting a great internship is starting early. Come learn helpful tips to secure your next internship.

Drop-in Internship Advising
Please drop in during these times to learn more about how to secure an internship.
Resume Blitz
The Hubbard Center hosts regular Resume Blitzes prior to every Career and Internship Fair, as well as in anticipation of high target employers. These quick reviews can help a student make a good first impression to prospective employers. Watch the Hubbard Center events in Campus Labs for the next Blitz!
How to Work the Room
Are you considering Graduate or Professional School? Want to talk with admissions representatives but are unsure of the best approach? Come join Nicole Burts, J.D. and Colleen McCracken Renick, Ph.D. for an informal conversation about working the upcoming Graduate and Professional School Fair.
Career and Internship Fair
Interested in making connections with potential employers? Not sure where to start looking for an internship? The Career and Internship Fair is an opportunity to ask questions about career fields and network with employers about current and future job and internship openings.
Graduate and Professional School Fair
Thinking about graduate school? Meet admissions counselors, learn about programs, graduate assistantships, and financial aid at this fair.
Personal Statement workshop
What is a personal statement? Why is it important in the graduate school process? Come learn effective strategies in writing your personal statement?
Partnered Departments
We have partnered with several different departments across campus in order to give students the best possible learning experience for Junior Jumpstart. These include:
Art and Art History
Michelle Word '01, Studio Art/Art History major, Director of Education at Eli and Edythe, Broad Art Museum in Lansing, MI

Dr. Melissa Steach '96 - Studio Art - Artist, Author, and Workplace Wellbeing Knowledge Lead at Herman Miller Group

Jim Zimmer '98, Studio Art major, Partner/Creative Director, Zimmer-Design in Louisville

Catherine Neville '95, English Writing/Art History major, Producer, tasteMAKERS; Publisher, Feast Magazine in St. Louis
Communication and THeater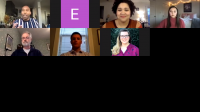 Katie Browning '18, Communication major, Community Engagement Specialist at Onebridge

Lauren Clark '11, Communication major, Founder of The Black Creator Connection | Writer| Performer| Creativity & Resilience Coach

Matt Hunt '17, Communication major, Manager - Capital Markets & Investor Relations at Kite Realty Group

Connor Burgess '19, Communication major, Music Coordinator, Amazon Studios

Brandon Piper '09, Communication major, Director, Client Services, Propper Daley.
Computer Science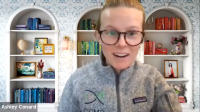 Justine Clarke '17, Software Engineer, Liberty Mutual Insurance

Annie John '01, Senior Account Executive, OpenText

Daniel Mendoza '01, Research Assistant Professor, University of Utah

Ashley Conard '14, NSF Graduate Research Fellow, Ph.D. Candidate Computational Biology (Computer Science track), Brown University
Education Studies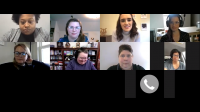 Rachel Hanebutt '15, PhD Student & Researcher, Vanderbilt University

Shavon Mathus '14, Elementary Principal at ReGeneration Schools

Bethea Covington Lane '01, 6th grade teacher, Lincoln Elementary

Melissa Burklow '12, Agile Scrum Master at Cox Automotive Inc
English Lit/Writing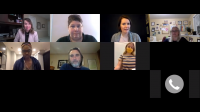 Leanne Batchelder '89, Principal Consultant at TiER1 Performance Solutions

Panyin Conduah '14Content Manager at SLCo & Agency

Iris Dooling '06, Senior Specialist- US Affiliate Policy at Habitat for Humanity International

Ingrid Benson '94, Senior Director, Strategy & Business Development at CSA Education
History/PolySci
Luka Ignac '20, McHenry Fellow, Kunin scholar and an M.A.candidate in German and European Studies at Georgetown University; Intern with BMW Governmental and External Affairs

Ross Patten '12, Assistant Director of Economic Development at City of Covington, Kentucky

Abbisola Oxley '16, Founder/ CEO at Ruthless Reviews Official

Anajah Roberts '10, Vice President, Corps Member Leadership Chicago-Northwest Indiana at Teach For America

Lacey Berkshire '11, Director of Health Plans at Insurance Institute of Indiana
Languages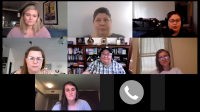 Alexadra Gandy '19, Subcontract Compliance Specialist for Kiewit

Olivia Muller '16, Trademark and Copyright Associate at Erik M. Pelton & Associates, PLLC

Melinda Franke '18
Anthro/Soc/Philosophy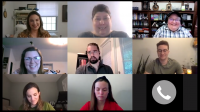 Psych/Neuro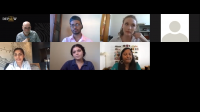 Anjali Desai '09, Project Manager at JPS Health Network

Marissa Ramon '20

Patel Purva '19

Kaitlyn McKenzie Malley '19, Doctoral Student at University of Texas at Dallas
Sciences
Bridget Kirby '20, Research Information and Development Analyst at Eli Lilly and Company

Ariel Cheatham '16, STD Epidemiologist at Indiana Department of Health

Emma Baldwin '18, OTD Level II Fieldwork Student in Inpatient Rehabilitation, University of Colorado Health
Other Departments include
Global Health/Women's Studies

SOM

Economics