DePauw Investment Group
Providing students with a real-world, practical outlet to develop fundamental investing skills.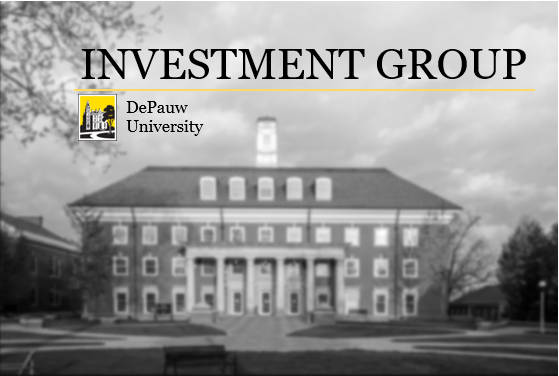 Overview
The DePauw Investment Group is a student organization that manages a portion of DePauw University's endowment. The group's purpose is to complement DePauw's strong liberal arts curriculum with an investments focused organization. The group will leverage DePauw's strengths of intellectual curiosity, problem solving and communication while directly exposing students to the responsibility and accountability associated with portfolio management. The program also provides students with the opportunity to learn technical and industry specific information benefiting them and their future career development.
Objective
The primary objective of the organization is capital preservation. The second objective is to apply DePauw's strengths of critical thinking and collaboration to the portfolio management and construction process. We will meet on a weekly basis to discuss current positions and to pitch new investments and or reallocations. Additionally, we will meet separately to provide learning opportunities about investing, the markets, and technical skills needed to successfully pursue a career in asset management. As a result, the portfolio management process will provide tangible learning opportunities through the investment and management of $175,000 of DePauw's endowment.
For more information please contact us at depauwinvestmentgroup@gmail.com or visit our website.