Maximizing Internship Experiences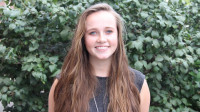 Sarah M. Roth '19, Morris, IL, Political Science Major, Business Administration and English Literature Double Minor
DoubleMap, Inc., Business Development Intern, Indianapolis, IN
"Working at DoubleMap has taught me the importance of transparency within a company and the direct effect it has on company culture and the efficiency of a business as a whole. Having had the opportunity to work at a growing startup, I have been able to work closely with each department on different tasks -- allowing me to better understand what all goes into making a business profitable."
Working directly under DoubleMap's President and Cofounder, Peter SerVaas, Sarah had a variety of responsibilities ranging from organizing speaking opportunities at conferences to creating a new business vertical that collected a 60% profit margin on its first pilot run. She also helped rebrand company efforts to align with current environmental issues that helped market directly towards university clients and led efforts for potential acquisitions and investment opportunities on an international level. She also helped save the company over $74,000 in R&D expenses while working alongside their Senior Staff Accountant.
---

JC Lukens '19, Bloomington, IN, Economics Major, Statistics Minor
Curiosity Advertising, Account Management Intern, Cincinnati, OH.
"Curiosity has given me a great experience working in a fast-paced collaborative environment. The internship improved my understanding of general marketing, particularly the world of advertising. I have had the opportunity to work on campaigns for big clients, such as Dean Foods, Penn Station Subs, and Roto-Rooter. Curiosity is a place where creativity is brought to life, connecting great products to the right people. At this internship, every day was truly something new."
As an account intern at Curiosity Advertising, JC was responsible for maintaining key client relationships and managing internal processes. However, he worked across all departments in the development and execution of client initiatives. Most of his experience was working with brand strategy, media placement, and new business acquisitions. His analysis included competitive audits for current and potential clients and evaluations of TV and digital media success. He also implemented a system to quickly track billable hours and agency efficiency. JC was responsible for several of Curiosity's internal affairs, such as the company's United Way Campaign, the Curiosity 100 blog, and the Curiosity Employee Spotlight. He also appeared in a Roto-Rooter commercial!
---

Donald C. (Donny) Bleifuss '19, Naperville, IL, Economics Major
KeyBanc Capital Markets (KBCM), Investment Banking Intern, Cleveland, OH
"The opportunity to work hand-in-hand with senior and junior bankers at KBCM provided a diverse and rewarding learning environment. I became knowledgeable of M&A and financing transaction processes, building a strong foundation of skills to accomplish future goals of mine."
"As a member of the KBCM industrial investment banking group, Donny had a variety of responsibilities to undertake while working as an integral member of the junior resource team. Donny led the composition and distribution of the Metals & Mining monthly newsletter throughout his time in Cleveland. Additionally, Donny had the opportunity to offer his hand on three sell-side deals, as well as a number of buy-side and sell-side pitches that arose. Donny has accepted an offer to return to KBCM in the summer of 2018."
---

Christopher Kelly '19, Sleepy Hollow, IL, Economics and Mathematics Major
Albertsons Companies Inc., Corporate Development Intern, Boise, ID
"Located in Boise, Idaho, this internship is with the corporate development department at Albertsons, the third largest grocery store chain in the country (revenue of approximately $60 billion). This department is responsible for all business acquisitions, ranging from grocery chains to meal kits to specialty pharmacies. During this internship, you will work on running financial models, calculating synergies, and creating PowerPoint presentations. You will also perform research on potential acquisitions, due diligence items, and equity research reports. This internship is an exceptional introduction into the world of mergers and acquisitions (M&A)."
While working at Albertsons, Chris has been able to work on multiple transactions at different stages of their timelines. He has had the opportunity to draft presentation decks as well as run financial models for current transactions. He has overseen due diligence and data requests along with conducting ad-hoc research regarding competitors and industry trends. He has also built a dynamic equity comparable model using Capital IQ that shows current trading multiples and valuations for competitors.
---

Zachary S. Johns '19,Carmel, IN, Economics major, Spanish Minor
Cummins India Ltd., Marketing Communications Intern, Pune, India
"Having the opportunity to immerse myself in a multinational organization and the Indian culture was an incredible experience. As an intern in the Marketing Communications department, I gained invaluable knowledge about marketing and corporate communication strategies, including the importance of digital benchmarking across the competitive landscape."
Throughout my time at CIL, I had a variety of responsibilities while working under the guidance of the corporate communications leader of Cummins in India. I had weekly tasks of researching and benchmarking competitor digital marketing strategies and creating presentations for the communications leader. I also collaborated with employees within every business entity of Cummins in India in order to create a new website structure. When I was not at work, I spent time with friends and co-workers exploring the beautiful culture and trying the amazing food.